Blast In Ukraine Mine Kills 72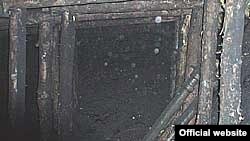 The Zasyadko mine after an accident in 2006 (official site) November 19, 2007 -- Rescuers in Ukraine have been continuing operations to find more than 20 miners still missing after a methane gas explosion at a coal mine killed at least 72 other miners.
Three days of mourning have been declared in the Donetsk region following the November 18 blast, which marked one of the worst mining disasters in Ukraine since the country became independent in 1991.
A fire and damage to ventilation systems were reported to have been hindering search operations at the Zasyadko mine.
A mine union chief has suggested there is little hope the missing miners will be found alive.
Earlier, more than 350 miners were reported rescued from the mine following the explosion.
President Viktor Yushchenko, who is due to visit Donetsk today, has criticized the government of Prime Minster Viktor Yanukovych for making insufficient efforts to implement safe mining practices.
(compiled from agency reports)