On February 19, the 27-year-old laborer became the ninth Kyrgyz national to be killed in Russia this year. That grim record was overtaken two days later when yet another Kyrgyz, still to be identified, was stabbed to death in Moscow.
Hate crimes in Russia have been on the rise in recent years, targeting citizens from the Caucasus to Central Asia. But for Kyrgyzstan, the killing of its citizens in Russia has become an urgent national issue.
The Kyrgyz parliament passed a resolution on February 22 appealing to Russian lawmakers to address the fact that an increasing number of Kyrgyz nationals are becoming victims of racial hatred.
Speaking to parliament, former Kyrgyz Foreign Minister Roza Otunbaeva noted what she called a growing imperial sentiment in Russia. She also suggested that racial hatred in Russia has risen further in recent days following Kosovo's February 17 declaration of independence from Serbia, a Slavic ally of Moscow.
"The latest [xenophobic] events are happening as a result of all these latest developments," Otunbaeva said. "The very negative impact of them is hurting all our Central Asian children. Every lost life [in Russia] is very grievous."
As lawmakers debated the issue, rights activists rallied in central Bishkek to demand that Russian authorities go after those behind the recent killings of Kyrgyz in Moscow and St. Petersburg. Maksim Kuleshov, one of the rally's organizers, also urged the Kyrgyz government to protect its citizens.
"We want the [Kyrgyz] government to support our initiative and announce an eight-day mourning period for the murdered citizens," Kuleshov said. "I don't know what else our country can do in this case. If the country can't protect [its citizens] there [in Russia], a [memorial] event should be held here to remember that our citizens have died."
Kyrgyz officials say the country's secretary of national security, Tokon Mamitov has discussed the issue with Russian Interior Minister Rashid Nurgaliev. According to the officials, Nurgaliev promised to personally oversee the investigation of the crimes against Kyrgyz nationals.
Russian officials have yet to comment publicly on the killings. The Kyrgyz Interior Ministry, however, says police in Moscow have detained 11 people -- mostly Russian men between the ages of 18 and 20 -- in connection with the killings of two Kyrgyz nationals.
Kyrgyz news agencies also quoted Kyrgyz diplomats in Russia as saying that police in St. Petersburg have arrested three people on suspicion of killing a Kyrgyz citizen there last month. The arrested men have reportedly admitted to murdering the Kyrgyz worker. "The motive of the killing was robbery," one Kyrgyz diplomat said, "and there is no proof so far that the crime was racially motivated."
Human rights groups have consistently criticized Russian prosecutors for filing many racially motivated attacks as "hooliganism," a charge which carries lighter sentences.
Despite the danger of increased attacks on workers, many Kyrgyz believe that labor migration from Kyrgyzstan to Russia will not decrease.
Seasonal jobs in construction sites, markets, and agriculture in Russia and Kazakhstan have become the main source of income for many men and women in impoverished Kyrgyzstan, where unemployment is widespread. In her remarks to parliament on February 22, Otunbaeva said Kyrgyz workers send home some $1 billion a year to their family in remittances.
Umutay Karybekova, a woman from Kara-suu district in Osh Province, told RFE/RL's Kyrgyz Service that seven of her nine sons have spent most of the past several years working in Russia.
"I live with my grandchildren," Karybekova said. "Their parents have left to Moscow. They work in Moscow and earn good money. They regularly send money."
According to official figures, some 300,000 Kyrgyz citizens are involved in legal and illegal manual jobs in Russia. Some other sources estimate that the number of Kyrgyz laborers in Russia exceeds 800,000.
(RFE/RL's Kyrgyz Service correspondent Amirbek Usmanov contributed to this report.)

Rising Russian Nationalism
Rising Russian Nationalism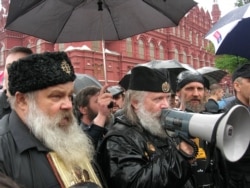 Orthodox believers and nationalists heckling a gay-rights rally in Moscow in May 2006 (RFE/RL)
A THREAT TO CIVIL, RELIGIOUS LIBERTIES: Several leading experts told a briefing hosted by RFE/RL and the U.S. Commission on International Religious Freedom that several mounting trends in Russia are posing a growing threat to human rights, especially for members of the country's ethnic and religious minorities.
LISTEN
Listen to the entire briefing (about 90 minutes):

Real Audio
Windows Media
RELATED ARTICLES
Why Putin Is Going To The Vatican
Bishop Assails Russian Orthodox Church

A thematic webpage devoted to issues of religious tolerance in RFE/RL's broadcast region and around the globe.