Afghanistan: Al-Qaeda Bloggers' Sparring With Taliban Could Signal Key Differences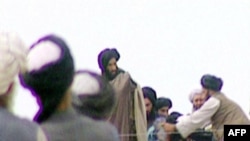 Mullah Omar (center, in 1996 photo) purportedly heads the Taliban leadership council (AFP) An Internet-fueled squabble between Taliban leaders and influential Al-Qaeda sympathizers over nonviolent tactics and foreign influence in Afghanistan hints at deep disagreements that could alter counterinsurgency efforts in that country.
Islamic extremists who regularly post messages to a pro-Al-Qaeda website in Egypt are accusing Afghanistan's Taliban of straying from the path of global jihad. Prominent Taliban have responded by lashing back with criticism of their own.
The development suggests a rift is emerging between the Taliban leadership and religious extremists in the Arab world -- including the Al-Qaeda network that the Taliban had hosted in Afghanistan while it planned the September 11, 2001, terrorist attacks in the United States.
Such a break could affect Afghan government efforts to convince Taliban fighters to lay down their weapons and peacefully resolve their differences with officials, which could in turn influence whether non-Afghan Al-Qaeda fighters continue to be welcomed among the Taliban.
Internet criticisms of the Taliban follow a February statement from Taliban leader Mullah Mohammad Omar announcing that his movement wants to maintain positive and "legitimate" relations with countries neighboring Afghanistan.
Mullah Omar, who heads a Taliban leadership council that was purportedly formed in 2003, also has said that the Taliban is exploring the possibility of holding peace negotiations with Afghan President Hamid Karzai's government.
"We want to have legitimate relations with all countries of the world," Mullah Omar's statement said. "We are not a threat to anyone. America believes that the Taliban is a threat to the whole world. And with this propaganda, America wants to use all other countries to advance their own interests."
Pro-Al-Qaeda bloggers who were angered by Mullah Omar's statement were further outraged in early March when the Taliban expressed solidarity with Iran by condemning the latest round of sanctions imposed on Tehran by the UN Security Council over its nuclear activities.
'Nationalist Trend'
Anyone with a password can post messages to the Al-Qaeda linked website. But some of the harshest remarks about the Taliban leadership have come from writers who are labeled as among the most influential on the website.
One of those bloggers -- who calls himself "Miskeen" or "The Wretched" -- responded to the Taliban declaration on Iran by writing: "This is the worst statement I have ever read.... [T]he disaster of defending the [Iranian] regime is on par with the Crusaders in Afghanistan and Iraq."
"Miskeen" also wrote that a "nationalist trend" appears to be penetrating the Taliban. Other pro Al-Qaeda bloggers have called for Al-Qaeda leaders Osama bin Laden and Ayman al-Zawahri to censure the Taliban over their recent statements.
But the Taliban's former ambassador to Pakistan -- Mullah Salam Zaief -- tells RFE/RL's Radio Free Afghanistan that the bloggers have no understanding of the topic.
"Somebody who is speaking from Egypt really doesn't have knowledge of the exact situation on the ground in Afghanistan," Zaief says. "He doesn't even convey the policies of the whole organization [of Al-Qaeda]."
"The conflict in Afghanistan doesn't mean [the Taliban] has to confront the world," Zaief continues. "Afghans are very tired of war. They want their homeland. They want peace in their country. They want independence. Whether they are Taliban or other Afghans, I don't think either wants to confront the entire international community. The Taliban doesn't want to rule the world."
A Path To Talks?
Independent analysts link the Taliban's quest for international legitimacy to the possibility of future negotiations with Karzai's government.
Karzai said in September that he was ready to negotiate with the Taliban, including Mullah Omar himself, in order to put an end to the Afghan insurgency. In December, U.S. Ambassador to Afghanistan William Wood said he would support reconciliation talks -- with some conditions.
One of the main sticking points for negotiations between Kabul and the Taliban appears to be the fate of Al-Qaeda. Formal negotiations could lead to the expulsion of Al-Qaeda fighters from Afghanistan if they did not commit themselves to supporting Karzai's government.
When asked what the Taliban thinks about Al-Qaeda extremists trying to dictate Taliban policies in Afghanistan, Zaief said foreign extremists are more interested in their own benefit than what is good for Afghans.
"I think every Afghan now has the experience that with intolerance toward each other -- if people do not live in peace and harmony with each other -- the bloodshed and devastation will continue for a long time," Zaief said. "Nobody has the right to ignore the importance of stability in Afghanistan. They should at least not be making such irresponsible comments. [The Al-Qaeda bloggers] were raising the question of the foreign-troop presence in Afghanistan. But now, I think Afghans have to tolerate the presence of foreign troops in the country because they have no other option."
Although Zaief lives in Kabul and his location is known by Karzai's government, he is still considered a prominent member of the Taliban whose views reflect those of the Taliban leadership. But his remarks about the need for Afghans to tolerate the presence of foreign troops were not supported by a Taliban statement on the issue released on March 11.
That statement says the Taliban's fight is aimed only at driving U.S.-led coalition forces from Afghanistan. It calls on U.S. allies to withdraw their troops from Afghanistan. It also calls on Afghanistan's former mujahedin factions to help the Taliban drive U.S. troops from the country.
Leaders of some of those mujahedin factions helped U.S. forces drive the Taliban regime from Kabul in late 2001 and now hold positions within Karzai's cabinet or are prominent members of the Afghan parliament.
RFE/RL's Radio Free Afghanistan contributed to this report from Kabul and Prague