East: Celebrating Norouz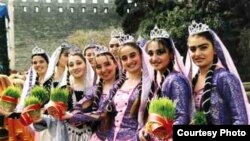 (Courtesy Photo) Norouz, the Persian New Year, is celebrated in Iran and many Turkic countries in Central and Western Asia, as well as Iraq and Syria. It is marked from the vernal equinox, usually on March 21, the first day of spring. Norouz is a two-week official holiday in Afghanistan and Iran, and is also officially marked in Azerbaijan, Kazakhstan, Kyrgyzstan, Tajikistan, Turkmenistan, and Uzbekistan.
In Iran and Afghanistan, people begin preparing for the holiday with a thorough house cleaning, and also buy new clothes and flowers. The holiday period is also a time when people visit relatives, friends, and neighbors, and on the 13th day of the festival families gather for outdoor picnics.
Another important tradition is the "haft sin" table, which is prepared with seven symbolic items that begin with the Persian letter "S." They can include coins for wealth, apples for beauty and health, hyacinth flowers signifying rebirth, and germinated wheat or barley seeds for fertility.
| | | | |
| --- | --- | --- | --- |
| Afghanistan -- Slideshow | Iran -- Slideshow | Tajikistan -- Slideshow | Turkmenistan -- Slideshow |
| | | | |