The arrangement was announced in Bucharest, where NATO heads of state are discussing how to revamp and bolster the NATO-led International Security Assistance Force (ISAF) in Afghanistan.
NATO leaders were meeting behind closed doors today to discuss details of French President Nicolas Sarkozy's proposal to send additional French troops to Afghanistan.
France already has about 1,500 soldiers in Afghanistan. Since 2006, most have been deployed in or around Kabul, where the threat of Taliban violence is significantly lower than in southern provinces like Kandahar, Helmand, Oruzgan, and Zabul.
Sarkozy, under pressure from the United States and Canada, confirmed that France will send an additional battalion to eastern Afghanistan. (A battalion typically numbers about 700 or 800 soldiers.) French officials have mentioned various numbers as to the exact quantity of reinforcements they would send.
NATO spokesman James Appathurai told reporters late on April 2 that France will send "a substantial military contribution" to Afghanistan.
"I can confirm that the French government has offered a substantial military contribution to the operation in Afghanistan; they have made that offer for the east of the country," Appathurai said. "The United States has, building on that offer, agreed to offer troops to the south. These troops will meet Canada's requirement for a partner in the south that will allow Canada, with the necessary contributions also in terms of equipment -- to extend its mission in Afghanistan until 2011."
Southern Slog
Canada currently has about 2,500 soldiers in the southern province of Kandahar -- the scene of some of the fiercest fighting against Taliban militants during the past two years. But Canada's parliament has threatened to withdraw those troops next year unless other NATO countries send at least 1,000 additional combat troops to help with the fight in Kandahar.
The Pentagon has sent 3,500 U.S. Marines for a seven-month deployment to Kandahar in an attempt to placate those demands. But the chairman of the U.S. Joint Chiefs of Staff, Admiral Michael Mullen, says those troops are not scheduled to be replaced when their tour expires. Mullen also has suggested that the United States will be hard-pressed to maintain surge operations in Iraq while it also increases troop commitments in Afghanistan.
U.S. President George W. Bush has been urging leaders of other countries at NATO's Bucharest summit to contribute more combat forces to keep pressure on the Taliban.
"Afghanistan still faces many challenges. The enemy has been driven from its strongholds and no longer controls a single Afghan city," Bush said. "But as this enemy has been defeated on the battlefield, they have turned increasingly to terrorist tactics such as suicide attacks and roadside bombs. And if we were to let up the pressure the extremists would reestablish safe havens across the country and use them to terrorize the people of Afghanistan and threaten our own. And that is why we'll stay on the offense."
With about 15,000 soldiers on the ground, mostly in eastern Afghanistan, the United States is the largest troop contributor to the 47,000-strong NATO-led ISAF mission. The United Kingdom follows with about 7,800 combat troops that are deployed mostly in Helmand Province.
Bush said other NATO countries need to share the burden of deploying troops capable of engaging in combat against the Taliban and Al-Qaeda.
"Clearly, some nations are more capable than others in sending troops into combat -- into harm's way," Bush said. "We fully understand the politics that prohibit some nations from contributing. But nations need to take this mission seriously because it is in our mutual interests."
'Anglo-Saxon Turn'
Indeed, Sarkozy's offer is highly controversial in France. Opinion polls suggest 68 percent of French voters oppose the idea of sending any additional troops to Afghanistan.
That mood has been seized upon by legislators from France's opposition Socialist Party, such as Pierre Moscovici, who criticizes the move as an attempt to please the Bush administration.
"There is an Anglo-Saxon turn in French diplomacy and in France's approach to defense; this occurred as soon as Nicolas Sarkozy came to power," Moscovici says. "All positions that have been taken on Iraq, Iran, Afghanistan, returning to NATO's fold, and even [Sarkozy's] visit to London [in February] with his desire of alliance, of strong relations between the two countries while neglecting the Germans -- all this shows an Anglo-Saxon turn."
Moscovici also says France risks becoming bogged down in an endless military campaign in Afghanistan under U.S. command.
"I believe that today we are experiencing an additional step in this return to NATO's fold -- a gesture that is being made to please the Bush administration without being useful on the ground," he says. "One thousand [soldiers] can't change [anything] -- it only risks getting France stuck in the same mess in Afghanistan [as the Americans] and put us indefinitely under U.S. command. For all these reasons, I think it is a mistake."
The French Constitution allows presidents to send soldiers into combat zones without parliamentary approval, but the opposition Socialists say the move is so unpopular in France that they will submit a motion of no confidence against the government for refusing to hold a vote on the issue in the lower house of parliament.
Sarkozy's offer to send an additional battalion to Afghanistan was made during intense negotiations at the Bucharest summit.

Reports suggest Sarkozy has been seeking U.S. acquiescence on a European Union defense initiative as well as France's eventual reintegration -- perhaps within the next year -- into NATO's military command.
French Resistance
Those issues cut to the core of NATO's historic organizational structure. Although France was a founding member of the NATO alliance, Paris and NATO experienced a crisis in relations during the late 1950s and early 1960s when Charles de Gaulle was French president. De Gaulle objected to the strong role of the United States within NATO and what he saw as a special relationship between the United States and Britain.
De Gaulle argued that NATO should, instead, create a tripartite directorate that would put France on equal footing with the United States and the United Kingdom. When the response he received was unsatisfactory, de Gaulle began to build an independent defense for his country.
By 1966, all French armed forces were removed from NATO's integrated military command, and all non-French NATO troops were asked to leave France. That forced NATO to relocate its Supreme Headquarters for Allied Powers in Europe from Paris to Brussels in 1967.
France remained a NATO member throughout the Cold War, but it wasn't until 1995 that France rejoined NATO's Military Committee. Paris still has not rejoined NATO's integrated military command.
Other Contributors
Germany also has come under criticism within NATO for restricting its troop contributions to relatively calm areas of northern Afghanistan.
But with more than 3,000 German soldiers on the ground in Afghanistan -- making Germany the third-largest contributor of troops to the NATO-led force -- Berlin argues that it is bearing its share of the military burden in Afghanistan.

"We may have failed in our communication process during the last couple of months when it comes to the question of what does Germany do in Afghanistan," says Karl-Theodor Freiherr zu Guttenberg, a conservative member of the German parliament and an important voice on Berlin's foreign policies.

"We clearly have to state that Germany is already helping out in the south whenever there is an emergency or a necessity to do so," he adds. "We are sending two more airplanes to the south this year. We will help out when it comes to certain other things. We have taken over the responsibility for the [Rapid] Reaction Force mainly in the north -- but also with the possibility of going to the south."
The Czech Defense Ministry says it is ready to deploy an additional 120 elite troops to eastern Afghanistan, where they would serve in Operation Enduring Freedom -- the separate U.S.-led counterterrorism effort. Those troops would be in addition to about 400 soldiers that the Czech Republic already has offered to send to Afghanistan this year.
Poland and Romania also reportedly have made offers to send hundreds of additional troops to Afghanistan.
RFE/RL correspondents Brian Whitmore in Bucharest and Claire Bigg in Prague contributed to this report
NATO summit coverage
A Meeting Of 'Old' And 'New' Minds
Commentary: Germany And The Georgian And Ukrainian NATO Bids
NATO Diary: Bucharest, You Are No Munich!
New NATO Commitments Lead Kabul To Take Greater Security Role
France Offers Troops To Bolster ISAF Mission
Central Asia: Odd Couple Crashes NATO Summit
NATO: Overtaxed Allies Assess Role In Afghanistan
Russia: NATO Divided On Expanding Alliance, But Moscow's Stance Is Clear
Vox Pop: Is 'Fear Factor' Behind Your Country's NATO Aspirations?
NATO: Defense Ministers Focus On Afghan Reconstruction
NATO: In Rough Neighborhood, Hopefuls Feel Lure Of 'Soft Power'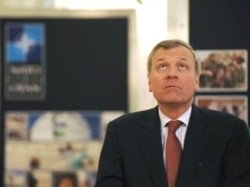 LOTS TO TALK ABOUT: The agenda of this week's NATO summit in the Romanian capital has included key questions about relations with the Balkans, the Caucasus, Afghanistan, Ukraine, and Russia. Entering the event, there was risk of gridlock, as Georgia and Ukraine sought "Membership Action Plans" over strident objections from Russia. Meanwhile, Balkan aspirants Albania, Croatia, and Macedonia already had their MAPs but faced varying degrees of resistance to their membership from inside the alliance. Secretary-General Jaap de Hoop Scheffer (pictured above) and NATO leaders were also grappling with the alliance's biggest current challenge and putative "top priority," its Afghan mission. Relations with Russia provided further drama as Washington pressed ahead with its effort to build a missile-defense system in Europe.