Karzai's announcement, made in Bucharest at the NATO summit on April 3, was welcomed by the alliance's secretary-general, Jaap de Hoop Scheffer.
"President Karzai's announcement that he intends for Afghan forces to take over responsibility of security in Kabul is proof to any doubters that this will increasingly become reality," de Hoop Scheffer said. But he stressed that NATO troops will be necessary for some time -- "tomorrow and in the long term."
This development follows France's decision to commit a battalion of forces -- at least 700 more soldiers -- to eastern Afghanistan. That move will allow U.S. forces to move from there to join Canadian forces battling the Taliban in the southern province of Kandahar.
Canada had threatened to withdraw its troops, now numbering about 2,500, unless NATO provided about 1,000 reinforcements. The United States is bringing in about 3,500 Marines to help, but because of its military needs in Iraq, these forces can stay for only seven months.
There is concern in some capitals that NATO allies are not contributing equally to the fight in Afghanistan. U.S. Defense Secretary Robert Gates has warned of what he calls a "two-tiered" alliance, split between those who fight and those who don't.
But with the deployment of the French battalion in the east, the United States can now shift other forces to Kandahar. Ottawa said on April 3 that it will keep its troops in place, and de Hoop Scheffer expressed satisfaction at these developments.
"Today, more nations stepped forward with offers that will raise their total again and very substantially, and which will also meet Canada's requirements to extend their mission in Kandahar -- something I very much welcome," he said.
Russian Announcement Expected
In another development, NATO and Russia announced on April 4 that they have worked out a transit agreement to allow the shipment of "nonlethal" material over Russian territory from NATO states to Afghanistan. The agreement covers the shipment of supplies like food, spare parts, and fuel.
Karzai, appearing at the news conference with de Hoop Scheffer and UN Secretary-General Ban Ki-moon, expressed his gratitude to both NATO and the United Nations for their support, which he said demonstrates their desire to help maintain stability in Central and South Asia.
"Today's meeting was yet again another affirmation of that will and backing by the international community of the Afghan people," Karzai said. "And in this context it is the responsibility now also of the Afghan people, of their government, to fulfill in full the commitments that we have made to ourselves and also to our partners in the international community."
Karzai also spoke favorably ahead of the transit agreement with Russia.
"If there is an agreement already on the transit of NATO supplies to Afghanistan through Russian territory, we are thankful for that to Russia," he said. "It is important because it cuts distances short, because it makes transportation easier, because it provides alternative routes to Afghanistan for the transportation of goods by NATO member countries. So, that agreement is something that we support."
NATO summit coverage
A Meeting Of 'Old' And 'New' Minds
Commentary: Germany And The Georgian And Ukrainian NATO Bids
NATO Diary: Bucharest, You Are No Munich!
New NATO Commitments Lead Kabul To Take Greater Security Role
France Offers Troops To Bolster ISAF Mission
Central Asia: Odd Couple Crashes NATO Summit
NATO: Overtaxed Allies Assess Role In Afghanistan
Russia: NATO Divided On Expanding Alliance, But Moscow's Stance Is Clear
Vox Pop: Is 'Fear Factor' Behind Your Country's NATO Aspirations?
NATO: Defense Ministers Focus On Afghan Reconstruction
NATO: In Rough Neighborhood, Hopefuls Feel Lure Of 'Soft Power'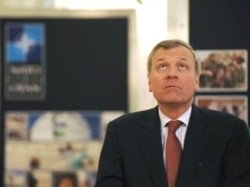 LOTS TO TALK ABOUT: The agenda of this week's NATO summit in the Romanian capital has included key questions about relations with the Balkans, the Caucasus, Afghanistan, Ukraine, and Russia. Entering the event, there was risk of gridlock, as Georgia and Ukraine sought "Membership Action Plans" over strident objections from Russia. Meanwhile, Balkan aspirants Albania, Croatia, and Macedonia already had their MAPs but faced varying degrees of resistance to their membership from inside the alliance. Secretary-General Jaap de Hoop Scheffer (pictured above) and NATO leaders were also grappling with the alliance's biggest current challenge and putative "top priority," its Afghan mission. Relations with Russia provided further drama as Washington pressed ahead with its effort to build a missile-defense system in Europe.