They are called the "resettlers." In defiance of health warnings, they have chosen to return to the "exclusion zone" -- the 30-kilometer area surrounding the site of the Chornobyl nuclear disaster.

It has been 22 years since an explosion at the Chornobyl nuclear power plant, located near Ukraine's border with Belarus, spewed radiation across large swathes of Europe and the former Soviet Union.

After some 350,000 local residents were evacuated in the immediate aftermath of the 1986 accident, the surrounding area became a massive ghost town.

But little by little, people began returning to their homes in the contaminated sector. Despite high levels of radiation, they cultivate the land and gather mushrooms and berries from the forest.

Nadzeja Zoryna, a pensioner in her 70s, several years ago returned to her home in the evacuated village of Hermanavichy, in Belarus's Homel region.

Remembering Their Roots
There she grows wheat and potatoes -- and sometimes even sells them to visitors.


"We no longer receive benefits. And look how many unfortunate children we have, whom we have to help," she says. "We need lard, milk, potatoes. Today, foreigners came here to buy potatoes, everybody wants to buy. One needs to live -- and it's tasty."
Many "resettlers" are not
aware of the dangers
of radioactive contamination. Those who are, choose to ignore them.
Ukraine's emergency situations minister, Volodymyr Shandra, who oversees Chornobyl issues, says the contamination is concentrated below the surface -- precisely where potatoes and other tubers grow.
"We must understand that this territory is contaminated by radiation," Shandra notes. "This radioactive contamination is located some 15-20 centimeters below the surface of the earth and in other places as well, such as trees. It's transuranium contamination, which is very long-lasting -- for hundreds of years."
According to official statistics, only 24 families live in that part of the exclusion zone. But other estimates put the number of "resettlers" there at more than 300.
In the nearby Belarusian village of Rudnya, Katsyaryna Ihnatsenka has settled in one of the evacuated town's abandoned, decaying houses.
Life Of Exclusion
She says it's a hard life, one in which she is left to fend for herself. "I'm 78 and I had to travel to the charcoal factory myself, order a car, order briquettes, pay for it, prepare reserves for the winter," she says. "All this all cost me 500,000 rubles [$230]. Go and survive after that!"

Ihnatsenka finds little more help whenever she leaves the exclusion zone. Local officials, she says, don't even look at her and ignore all her pleas for assistance. "As though I'd drop dead tomorrow," she complains.

with reporting by RFE/RL's Belarusian and Ukrainian services
Chornobyl Images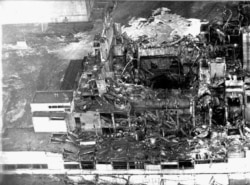 April 26 marks the 22nd anniversary of the Chornobyl nuclear disaster, one of the world's worst ecological accidents.

See slideshow of the Chornobyl disaster, then and now