Iran: Israel's Deputy Prime Minister Says Attack Looks 'Unavoidable'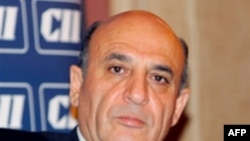 Israeli Deputy Prime Minister Shaul Mofaz (file photo) (AFP) Shaul Mofaz, Israel's transport minister and deputy prime minister, has told an Israeli newspaper that an attack on Iran looks "unavoidable" because of the apparent failure of UN sanctions to prevent Tehran from developing nuclear weapons.
In an interview with the "Yedioth Ahronoth" newspaper to be published on June 8, Mofaz is quoted as saying, "If Iran continues with its program for developing nuclear weapons, we will attack it."
Iran denies that its nuclear program is aimed at developing nuclear weapons, saying it is for peaceful civilian purposes only.
Asked for a response to Iranian President Mahmud Ahmadinejad's statement that Israel should be "erased from the map," Mofaz said Ahmadinejad "will disappear before Israel does."
Mofaz is formerly chief of staff of the Israeli Defense Forces and a former Israeli defense minister. His remarks are the most explicit threat yet against Iran from a member of the Israeli government.
Some political observers suggest Mofaz's comments are meant for domestic political consumption. They say Mofaz and other senior members of Israeli Prime Minister Ehud Olmert's Kadima party could be preparing to run for the top office in case a corruption scandal forces Olmert to resign.
The Israeli government has never gone on record about specific military plans against Iran. Its official position is that military options must not be ruled out if UN sanctions against Iran are to be effective.
compiled from agency reports