The punch came without warning, dealt by a young man wearing brass knuckles. A second assailant then picked up the woman's limp body while his friend struck her repeatedly in the face and stomach.
"Two men came up from behind and hit me," she recalls. "First they hit my right eye and then broke my nose and cheekbone. I fainted immediately. I hadn't done anything wrong, they attacked me because I was veiled."
Kamola doesn't remember being rushed to a nearby hospital. She regained consciousness four days later with injuries so severe that she now faces major brain surgery and facial reconstruction work.
But the mother of two considers herself lucky to be alive. Like most foreigners and ethnic minorities in Russia, she is painfully aware that dozens of people die every year in racially motivated assaults.
According to Sova, a Moscow-based organization that monitors such crimes, extremists have already killed 57 people and wounded another 117 this year in Russia. Only six months into the year, hate-crime figures already look set to exceed those of 2007, when a total of 80 people were murdered.
The real number of victims, however, is probably much higher.
"The figure of 57 is much lower than some estimates; gathering solid information has become very difficult," says Galina Kozhevnikova, Sova's deputy director. "We already wrote last year about our serious difficulties in obtaining information, and this year I can't even describe how difficult it has become. Such cases are not reported in the media, and law-enforcement agencies don't give us anything at all."
Climate Of Impunity
The intensity of the assaults is also on the rise, evolving from simple beatings to torture and mutilation.
The cruelty hit a horrifying peak in August 2007, when a video was posted on ultranationalist websites showing a group of masked men killing two dark-skinned captives execution-style.
Russia's Interior Ministry and secret services at first dismissed the grisly footage -- in which one of the bound men is beheaded, and the other shot in the head -- as a fake.
Some hate-crime experts had also cast doubt on the video's authenticity until a man in Daghestan recognized the beheading victim as his brother. The Russian Prosecutor-General's Office on June 5 publicly confirmed the video was genuine.
Racism was an unspoken fact of life during the Soviet era, even as the USSR publicly celebrated the utopian harmony of its myriad ethnicities and cultures.
Since the collapse of the Soviet Union, however, once-dormant prejudices have been allowed to devolve into active racism -- particularly in Russia, where resurgent national pride and heavy labor migration from neighboring states have proven an explosive combination.
The Kremlin has done little to curb the problem. Critics say the government has even poured fuel on the fire with nationalist measures such as the mass deportation of ethnic Georgians in retaliation for the 2006 arrest of Russian officers in Tbilisi, or the ban on all foreign traders in retail markets -- a move then-President Vladimir Putin said was intended to protect the interests of "native Russians."
Russia's judicial system has been equally reluctant to combat hate crimes. Although the number of prosecutions for racially motivated attacks has increased in recent years, many assailants continue to get away with little more than a slap on the wrist.
At the same time, Russian skinheads and neo-Nazis are seeking to organize their ranks. On June 8, at least four large nationalist groups signed a pact to unite forces in order to better address the problems of "migration and corruption." An estimated 70,000 Russians are believed to be members of nationalist organizations.
It is undeniable that hate crimes are on the rise. The question is why. Some experts say neo-Nazis and other assailants are reacting to a rare police crackdown earlier this year. Others believe that increasing numbers of young Russians, frustrated by poor educational and professional opportunities, are taking their anger out on migrant workers.
Shift Of Target
Desire Deffo came from Cameroon to St. Petersburg almost two decades ago to study hydrology. Africans, who once flowed into the country to pursue higher education studies, were a primary target of hate crimes in St. Petersburg. But Deffo says assaults against Africans have dropped sharply over the past year -- and that Central Asian migrants now appear to be the bearing the brunt of the city's racist attacks.
"The growing number of arriving Tajiks and Uzbeks work on building sites, in markets, and young Russians are not pleased about that," he says. "The majority [of Africans] are students, and the attitude toward us has improved. If before dark skin was the main factor, today the migrants' occupation also plays a role."
Groups like Sova say Central Asians, the vast majority of whom come to Russia in search of work, have replaced dark-skinned foreigners and people from the North Caucasus as the main victims of racist attacks. Of the 57 people killed this year, 31 are from Uzbekistan, Tajikistan, and Kyrgyzstan.
Veteran rights activist Svetlana Gannushkina says deep-running ties between government authorities and the construction industry, which depends on cheap Central Asian labor, may help explain the official laxness in combating racist violence.
"Now the main victims are people from Central Asia. Authorities allow this to happen because Central Asians are currently the chief resource for slave labor," she says. "Their vulnerability is profitable to those who exploit them, it's profitable to have workers who are frightened and broken-spirited. Authorities profit from this because they are closely connected to these structures."
Rampant discrimination, combined with the threat of attacks, have contributed to an atmosphere of fear that puts immigrants under severe emotional and psychological stress.
Gavkhar Dzhuraeva, who heads a Moscow-based support group for migrants, says this anxiety is pushing many to suicide. Other migrants, bent on revenge, have begun to resort to vigilante justice.
Dzhuraeva, who herself is an ethnic Tajik, has lived in Moscow for the past 15 years. She speaks flawless Russian and holds a Russian passport. But she feels just as victimized as newcomers.
"To feel comfortable," she sighs, "I'd have to stop looking at myself in the mirror."
'No Political Will' To Fight Xenophobia
'No Political Will' To Fight Xenophobia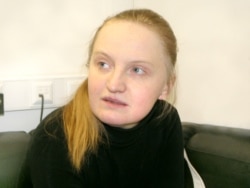 By Galina Kozhevnikova, the deputy director of the Sova center -- a Moscow-based organization that keeps a tally of racially motivated attacks.
We see a precise link between the surge of neo-Nazi attacks in Moscow earlier this year and increased activity by law-enforcement agencies. Underground neo-Nazi groups, which are accustomed to acting with full impunity, suddenly faced active measures by the police and the prosecutor's office.
In January, February, and early March, arrests of participants or suspects in racist murders and attacks were reported almost every day. So neo-Nazi organizations reacted -- as soon as a group was detained, a murder or an attack promptly took place in the same area. It was an open show of defiance. This has now ended, perhaps because these groups have used up their resources.
"But as a rule, the actions of law enforcement agencies and their level of activity are linked to subjective factors. For example, a new prosecutor is appointed who is eager crush neo-Nazis; work begins, criminal cases are opened. Then he moves to another job and the fight with neo-Nazis quickly dies out.
This happens in a number of regions. Voronezh is a unique example of how a shift in the attitude of the prosecutor's office toward such cases has made it possible to curb the wave of neo-Nazi violence in just two years. If in 2005 Voronezh was reputed as one of the three skinhead capitals (after Moscow and St Petersburg), this is no longer the case.
The government, of course, isn't doing anything in practice. There is no political will. Officials make statements that are purely formulaic. One of the first statements by the new president [Dmitry Medvedev] was about the need to combat extremism and racial and religious enmity. But such declarations are never interpreted as an order to take action or as a strategic task. They are interpreted as mere declarations aimed for external consumption, for foreign countries.
Nothing will change until the government begins resolute, long-term work in that direction, instead of working in spurts. Since the events in Kondopoga in 2006 [the site of mass riots by Russian nationalists calling for the government to remove Chechens and other people from the Caucasus from the city], government officials have even been directly competing against the Movement Against Illegal Migration -- all this talk about protecting native inhabitants from non-natives; this absolutely populist decision to ban foreigners from working in markets, which resulted in law enforcement agencies carrying out ethnic cleansings on markets regardless of the citizenship of people who worked there; the anti-Georgian, anti-Estonian campaigns, which from a political campaign quickly turned into one of ethnic discrimination.
The government directly competes with ultranationalist organizations, these measures are its answer to society's huge xenophobic demand.