Irakli Bigvava, a 24-year-old Georgian, is at the center of a new dimension of the conflict simmering between Georgia and its separatist territories.
Georgian officials say the young man fled last weekend from his village of Otobaia, in Abkhazia's Gali district, to Georgia proper to escape an attempt to force him to join the Abkhaz armed forces. Bigvava, who sustained serious wounds when he resisted conscription, was carried across the border by his relatives.
Some 70 women and children from Otobaia fled to Georgia along with him; RFE/RL's Georgian Service reports that Abkhaz authorities forced male villagers to remain in Otobaia as hostages. Bigvava now says he is being pressured by fellow escapees to return to Otobaia and turn himself over to the authorities.
Georgia's breakaway territories of Abkhazia and South Ossetia saw their self-declared independence receive a boost after the Russia-Georgia war in August, when Moscow formally recognized their claim. Since then, both territories have sought to embrace the trappings of statehood in ways that are seen by their ethnic-Georgian populations as increasingly threatening.
Georgian and Western officials fear the Gali incident could constitute an ultimatum to ethnic Georgians -- either assimilate or leave. This would put the Georgian government in a very difficult position and further erode the international community's ability to influence events in the breakaway territories.
Sergei Shamba, Abkhazia's de facto foreign minister, told RFE/RL on March 3 that Sukhumi intends to enforce military conscription without exceptions.
"Our laws state that military service is obligatory, and all [men] will be called to serve, regardless of their ethnicity," Shamba said. "We will therefore not create any exceptions for citizens of Georgian [extraction]."
Shamba downplayed the significance of the events in Gali, however, saying that Bigvava was wanted on criminal charges stemming from a series of robberies.
In October, South Ossetian leader Sergei Kokoity said his territory also intended to draft its subjects into military service without regard for their ethnic background.
Informed Western sources in Tbilisi say attempts to forcibly conscript ethnic Georgians in South Ossetia and Abkhazia could constitute an "intolerable provocation" for the Georgian government.
Few Georgians Remaining
Both Abkhazia and South Ossetia had large indigenous Georgian populations, most of whom were forced to leave during the conflicts in the 1990s and during the August war.
A few thousand ethnic Georgians remain in the Alkhagori district in South Ossetia, and perhaps 30,000-40,000 in Gali in Abkhazia. Exact figures are hard to come by.
Abkhazia and South Ossetia have maintained their own military forces, with support from Moscow, since the conflicts with Georgia in the early 1990s. But there are no reports of either having sought to enlist ethnic Georgians against their will before the incident in Gali.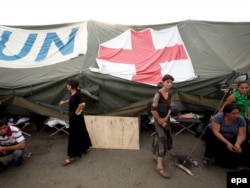 Many Georgians have fled the breakaway regions.
In South Ossetia, Georgia controlled most of the Georgian-populated areas, while Abkhaz authorities largely left the Gali district to its own devices until last year.
Shota Malashkhia, the chairman of the Georgian interim parliamentary commission on restoring territorial integrity, says he fears Abkhaz intimidation will force the remaining ethnic Georgians out of the province, and "successfully complete the ethnic cleansing of the Georgian population."
The situation is complicated by the fact that the international community's ability to control the situation in Georgia -- and intervene where necessary -- is being severely undermined.

Monitors Denied Access
Backed by Russia, both Abkhazia and South Ossetia have refused access to international monitors. Meanwhile, both host large numbers of Russian troops. Between 3,000 and 4,000 Russian soldiers are stationed in Alkhagori, 40 kilometers from Tbilisi. Abkhazia has said it wants permanent Russian bases on its territory.
In their attempts to defuse tensions in Georgia, the European Union, the United Nations, and the Organization for Security and Cooperation in Europe (OSCE) have focused on obvious fault lines -- the boundaries between Georgia and its breakaway territories. The thinking has been that friction there presents the most acute danger to the Russian-Georgian cease-fire.
The EU has accepted a lopsided monitoring mission, patrolling the areas of Georgia proper abutting Abkhazia and South Ossetia -- even if it cannot enter either of the territories themselves. "At least we can prove the Georgians are up to nothing, if necessary," one EU official told RFE/RL last month.
By and large, Western pacification efforts have met with success in the sense that no postconflict provocations -- including the deaths of a dozen Georgian policemen in individual incidents -- have led to a resumption of war.
Lingering Fog
But the events in the lower Gali district suggest a much deeper wellspring of conflict exists inside Abkhazia and South Ossetia. In the words of one Western official, attempts by separatist authorities to conscript ethnic Georgians could create an "explosive situation."
It is not difficult to see why. The Georgian government would be faced with an impossible choice -- it could stand idly by as some of its citizens are forced into armed formations it considers illegal, while others flee their homes or take action and risk a possibly fatal showdown with Moscow.
The Georgian government's options are further limited by the fog of war still hanging over Abkhazia and South Ossetia. The EU has no access to either. In Abkhazia, the UN's Georgia mission is the sole outside presence apart from Russia, and is not allowed to observe troop movements. Having banished OSCE monitors, South Ossetia remains completely impenetrable.
There was progress last month at the four-party talks in Geneva, however. "Incident prevention mechanisms" are due to be set up, and the EU monitoring mission is to be granted some access -- if token and supervised -- to South Ossetia and Abkhazia.
Until then, Western officials without any means of independent verification of what precisely lies behind the Gali events -- and similar incidents that may follow -- have been reduced to gleaning what information they can from local sources.

Geronti Kalichava of RFE/RL's Georgian Service contributed to this report