TEHRAN (Reuters) -- Two losing contenders in Iran's presidential election have denounced the result in clear defiance of Supreme Leader Ayatollah Ali Khamenei, saying Mahmud Ahmadinejad's next cabinet would be illegitimate.
Moderate former Prime Minister Mir Hossein Musavi and reformist cleric Mehdi Karrubi unleashed fierce attacks on the outcome of the June 12 vote that returned Ahmadinejad to power.
Although hard-liners have appeared to be in the driving seat since security forces overcame street protests that erupted in the days after the poll, Musavi and Karrubi have not yielded.
Both men issued statements on their websites describing Ahmadinejad's future government as "illegitimate" -- even though Khamenei, the Islamic republic's ultimate arbiter, has upheld the result and thrown his weight behind the president.
"It is our historic responsibility to continue our protests and not to abandon our efforts to preserve the nation's rights," Musavi wrote, urging the release of "children of the revolution" -- meaning scores of reformist political figures rounded up during Iran's gravest unrest since the shah fell in 1979.
Karrubi, a reformist former parliament speaker who finished last in the poll, also pledged to fight on. "I don't consider this government legitimate," his statement said.
"Visible and invisible forces blocked any change in the executive power," he said, demanding the release of the "thousands" of people he said had been arrested since the poll.
Iran's police chief, Ismail Ahmadi-Moghaddam, put the total number of detainees at 1,032 and said most had been freed. The rest were "referred to the public and revolutionary courts", the semi-official Fars news agency quoted him as saying.
He said 20 "rioters" had been killed and more than 500 police injured.
'Coup D'Etat'
A leading reformist party said the election had been a "coup d'etat" that harmed the legitimacy of the establishment.
"We openly announce that the result is unacceptable," said a statement by the Islamic Iran Participation Front, established by reformers close to former President Mohammad Khatami.
Ahmadinejad cancelled a trip to Libya for an African Union summit that would have given him another chance to burnish his image at a potentially friendly international forum.
His office gave no reason for the decision, but a Foreign Ministry spokesman said the president was too busy to go.
Four days after the vote, Ahmadinejad attended a regional summit in Russia in a show of confidence, ignoring mass rallies against a process that Musavi and Karrubi say was rigged.
Iran has accused foreign powers, especially Britain and the United States, of inciting the antigovernment protests.
Stung by European Union criticism of the election aftermath, Iran's top military commander demanded that the 27-nation bloc say sorry for its "interference" before any resumption of talks on Tehran's disputed nuclear program.
"Before apologizing for their huge mistake...they have no right to talk about nuclear negotiations," Major General Hassan Firuzabadi was quoted by the Fars news agency as saying.
Nuclear Talks
The EU powers Britain, France, and Germany have led negotiations with Iran over nuclear work that the West suspects is aimed at bomb-making. Tehran says it is wholly peaceful.
Together with the United States, Russia, and China, the EU nations have offered a package of economic and other incentives to Iran if it will stop enriching uranium, a process that can produce fuel for power plants, or, potentially, a nuclear bomb.
Iran has rejected the demand, saying it has the right to pursue such work as a member of the Nuclear Nonproliferation Treaty.
U.S. President Barack Obama's administration had offered to join the negotiations, but the turmoil after the election has dimmed prospects for any U.S. engagement with Tehran.
A row between Iran and Britain rumbled on, with the Fars agency alleging that an Iranian employee at the British Embassy had helped foment the street protests.
The authorities detained nine Iranian employees at the British Embassy on June 28, but most have been freed.
"Among the three detained British Embassy staff there was one who...had a remarkable role during the recent unrest in managing it behind the scenes," Fars said, citing no source.
It said another employee had been a "main element behind the riots," but had been freed because she had diplomatic immunity.
British Foreign Secretary David Miliband told Ireland's RTE radio the detentions and the previous expulsion of two British diplomats were "completely contrary to the sort of good political engagement that Iran says that it wants."
He said the violence the Iranian government had perpetrated against its people since the election was shocking. "In the modern world, the truth will out and I hope that it comes out before too many more bones are broken and lives lost in Iran."
Swedish Foreign Minister Carl Bildt said Iran and the EU shared an interest in protecting diplomatic staff.
Asked whether there was a recommendation for EU countries to withdraw ambassadors from Tehran, he told Reuters: "We are taking one step at a time. At the moment we are in a state of dialogue with the Iranian authorities about these issues."
Iran Election Special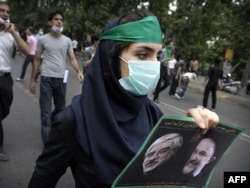 RFE/RL's Full Coverage
Following the disputed reelection of Iranian President Mahmud Ahmadinejad, supporters of Mir Hossein Musavi have taken to the streets to protest.
Click here
for news, blogs, and analysis of the presidential election and aftermath.
Iran Election Diary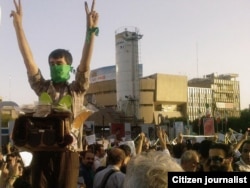 Disputed Presidential Vote
There have been protests and clashes with police on the streets of Tehran following the disputed reelection of Mahmud Ahmadinejad. RFE/RL collects videos, photos, and messages on social-networking sites coming out of Iran to attempt to get a picture of what is happening inside the country.
Click here