(RFE/RL) -- According to official preliminary results, a controversial referendum that could give Azerbaijani President Ilham Aliyev the opportunity to rule the oil-rich South Caucasus country for life has been approved.
The Central Election Commission reported that with 54 percent of the vote counted, the changes were approved by 92.2 percent of voters.
Opposition leaders, who had called for a boycott, said the vote was fraught with violations including ballot stuffing,
repeat voting
, and intimidation.
In an interview with RFE/RL's Azerbaijani Service, Mubariz Gurbanli, executive secretary of the ruling Yeni Azerbaycan Party, earlier called the vote a victory for the constitution and the rule of law.
"We believe that the referendum is valid and that citizens expressed support for constitutional changes," Gurbanli said. "These changes are another step in optimizing constitutional rights and the constitutional system in Azerbaijan."
The referendum asked the public to approve amendments to 29 articles of the constitution, including a proposal to scrap a two-term limit for the presidency. Such a change, critics say, would open the door for Aliyev -- who won his second five-year term last October -- to run for unlimited terms starting in 2013.
Aliyev Dynasty?
Isa Qambar, the leader of the opposition Musavat Party, says that the real turnout in the referendum was only 15 percent and describes it as "a total fiasco. I am convinced that the referendum, which was designed to prolong the rule of Aliyev's family, eventually will shorten it substantially. The reaction that people showed to the referendum confirms this opinion."
Aliyev's family has dominated Azerbaijan for decades. The current president's father, Heydar Aliyev, was the communist leader of Soviet-era Azerbaijan. He then served as the independent country's president from 1993 until his death in 2003.
Ilham Aliyev was elected to his first term in October 2003 and was reelected last October. Both votes were widely criticized by the opposition and international observers as flawed.
Aliyev has presided over an oil-fueled economic boom. He has also sought to balance Azerbaijan's foreign and energy policies between Moscow and the West.
Critics say Azerbaijan's importance in reducing Europe's dependence on Russian energy supplies has diluted criticism about Aliyev's questionable commitment to democracy.
Vote Criticized, Again
In the March 18 referendum, reports of violations and falsifications were widespread.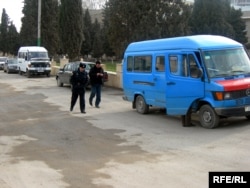 RFE/RL correspondents reported seeing buses taking people from one polling station to another.
Necmetdin Mamedov, an electoral observer in the Astara region near the Iranian border, tells RFE/RL's Azerbaijani Service that he witnessed numerous violations at his precinct, including some involving prominent citizens.
"The head of the district's council of elders, Hamlet Aliyev, had three ballots in his hands. I caught him," Mamedov says. "I discovered this violation and reported him to the head of the precinct election commission. I also saw four ballots in the hands of the head of the local head of the state insurance committee."
RFE/RL correspondents also reported witnessing various violations, including the bussing of voters from one polling station to another, open stuffing of ballot boxes, and illegal election-day campaigning.
Some voters were not even sure what they were voting for. In Baku's Khatai district, an RFE/RL correspondent asked a voter, Jafarova Kishvar, how he voted. "I voted for whomever they said to vote for," he answered.
The Venice Commission, the Council of Europe's advisory body on constitutional issues, warned on March 16 that the elimination of presidential term limits in Azerbaijan might prove "a serious setback on Azerbaijan's road to a consolidated democracy."
RFE/RL's Azerbaijani Service contributed to this report