(RFE/RL) -- As an oil-rich country, Azerbaijan has seen its fortunes skyrocket during the past few years.
Between 2003 and 2007, the country's gross domestic product expanded by an average of more than 20 percent per year, making it one of the fastest-growing economies anywhere in the world.
Now, in a referendum today, Azerbaijanis are being asked whether the man who presided over the boom -- President Ilham Aliyev -- should be granted the right to run for unlimited terms.
A woman casts her ballot in Baku.
For many Baku residents, the answer is an unhesitating "yes."
"Of course, I'll go to the referendum; it's necessary to go," one Baku woman says. "We love our president. God bless him. Everything will turn out normal and perfect."
"We know the other ones who have been president were all crooks," an elderly Baku man says. "But now it works, and please let it stay that way."
"I'm in favor of it. There's no reason to vote against it," says another Baku man. "We have no problems, that's why. Everything is normal now."
Authorities put voter turnout at 32.4 percent after five hours of voting. A turnout of just 25 percent of Azerbaijan's estimated 4.9 million voters is required to legitimate the referendum.
Stirred Controversy
The sanctity of presidential term limits is a flexible notion in the post-Soviet Caspian region, where the Soviet-era leaders of Central Asia have routinely tinkered with constitutional limits to extend their time in office.
But Azerbaijan, which has sought to present itself as a keen democratic partner to the West, has stirred controversy with the vote.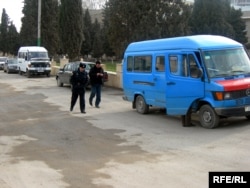 The opposition say these buses were used to ferry voters from one polling station to another so they could cast ballots twice.
The Venice Commission, the Council of Europe's advisory body on constitutional matters, on March 16 said the elimination of presidential term limits in Azerbaijan may prove "a serious setback on Azerbaijan's road to a consolidated democracy."
The referendum will ask the public to approve amendments to 29 articles of the constitution, including Article 101(V), which currently states the president may only be elected for two consecutive terms.
That would make Aliyev, who was elected to a second five-year term last October, eligible for unlimited runs starting in 2013.
It would also cement the dynastic legacy of the Aliyev ruling clan, which began with Ilham's father, Heydar, who was the leader of Soviet Azerbaijan from 1969 to 1982, and later served as president of independent Azerbaijan from 1993 to 2003, when he was succeeded by his son.
Committed To Democracy
Supporters of the referendum say they are committed to democracy, but that abolishing term limits would help protect the country from instability, particularly as the long-term effects of the global economic crisis set in.
By holding this referendum, the government is sending a clear and sincere message. They are saying, 'We have no intention of changing.'
"I expect that Azerbaijani society will demonstrate political maturity and come to the polling stations, read all the amendments to the 29 articles, and say 'yes' to all of them," says Bakhtiyar Sadigov, editor of the state-funded "Azerbaijan" newspaper and a leading member of the ruling Yeni Azerbaycan Party, which proposed the referendum. "And I expect that those who are predicting a mess -- falsifications, protests -- will be disappointed yet again."
The referendum is not limited to presidential politics. Critics say some of the proposed amendments aim to tighten an already existing choke hold on the country's media.
If approved, one amendment will make it illegal for journalists to "follow, film, photograph, or record" a subject without prior permission. This is a direct violation of the European Convention on Human Rights, which protects the right of the media to inform and comment on issues of public interest.
Worringly Imprecise
Other amendments propose to extend the terms of both the parliament and the president in case of military operations held under a state of war. Critics say the amendment is worryingly imprecise, particularly given the fact that the dormant conflict with Armenia over Nagorno-Karabakh is considered "a state of war" -- albeit one with no "military operations."
Members of the political opposition say every amendment included in the referendum was drafted with a single aim -- to concentrate absolute power in the hands of the ruling elite.
"By holding this referendum, the government is sending a clear and sincere message," says Nureddin Mammadli, deputy chairman of the Popular Front opposition party. "They are saying, 'We have no intention of changing. We want to rule society by changing you. We will take as many bribes as we want, we will violate your rights wherever and whenever we want, and there will be no place for pluralism and free speech in this society. No matter who you elect, it will be our guy who's holding the post, and you have to adapt to this reality.' This is a feudal system."
Samir Pashayev, a polling station chief in one Baku district, told RFE/RL's Azerbaijani Service that he was prepared to go to unusual lengths to get voters to the polls.
"If turnout is low, members of the election commission will take care of it," Pashayev said. "They've already spoken to voters. When we need them to come vote, the local officials will organize their delivery and bring them over."
Polls close at 7 p.m. local time (1500 GMT). First official results are expected several hours later.


Sophie Boeschoten and RFE/RL's Azerbaijani Service contributed to this story from Baku
Journalists In Trouble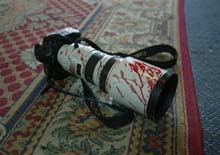 RFE/RL journalists take risks, face threats, and make sacrifices every day in an effort to gather the news. Our new "Journalists In Trouble" web page recognizes their courage and conviction, and documents the high price that many have paid simply for doing their jobs. More