The name was coined by an economist to group together the world's biggest emerging economies. Now BRIC (Brazil, Russia, India, and China) is holding its first official summit in the Russian city of Yekaterinburg.
The four BRIC countries together account for 15 percent of global economic output -- and some two-fifths of the world's foreign-exchange reserves. And it's rapidly growing.
Goldman Sachs, the financial firm that coined the term earlier this decade, says the BRIC economies could overtake the Group of Seven (G7) major industrial economies within 20 years.
That's despite -- or perhaps because of -- the economic crisis. While no country has been unscathed, BRIC as a group is still expected to grow this year and rebound more strongly than the world economy as a whole in 2010.
And so when Russian President Dmitry Medvedev meets leaders from India, China, and Brazil, it will be a way for the world's biggest emerging economies to assert themselves as a group.

Up-And-Coming Powers
"I do think that from a political perspective it is somewhat significant that the leaders of the four biggest emerging countries are coming together," says Paul Biszko, a senior emerging markets analyst at RBC Capital Markets in Toronto.
"I think the crisis is accelerating their unity and I think it is significant from the perspective that they all realize there is a consensus that they need to come together and look at alternatives to the global financial landscape in light of what 's happening in the key developed markets."
On the agenda will be topics like the economic crisis and climate change. And an issue close to BRIC leaders' hearts -- reform of international financial institutions like the International Monetary Fund (IMF).
BRIC countries feel their share of voting power at the IMF does not reflect their growing clout in the world economy. Brazil and India, for example, each have a smaller share of the IMF board's votes than the Netherlands.
Developing countries want that to change to reflect the global shift in power. In a move seen as part of those efforts, all four BRIC countries recently announced they are interested in buying up bonds to be issued soon by the IMF.
The planned purchases are also a way for them to diversify some of their reserves away from the dollar.
That's because they're worried that U.S. efforts to combat the recession -- including huge stimulus spending -- could erode the value of the dollar and of dollar-denominated reserves.
This has been a recurring theme in recent months, with Russia and China suggesting the world move away from the dollar as its chief reserve currency.
More Different Than Alike

But aside from more say at the IMF and talk about the need for alternatives to the dollar, experts say the countries in BRIC share little in common.
Professor Michael Bernstam, a research fellow at the Hoover Institution in the United States, says "BRIC" is just a handy label for investors and political meetings.
"There is hardly anything in common between these countries in terms of economic development, it's not the same like with, say, the European Union, with countries that have similar levels of economic development and really constitute an economic bloc," Bernstam says. "This is not an economic bloc at all, it's a brand name."
As Bernstam notes, these are very different economies. China, the "manufacturer to the world." Russia and Brazil, major exporters of commodities. India, a leading provider of information-technology services.
Their political differences are huge, too. And take their relative fortunes during the crisis.
Goldman Sachs expects China and India to power ahead this year, even as the world economy contracts. But it expects Brazil to tip into recession and Russian output to plummet by 7.5 percent.
With such wide differences, analysts say it's difficult to see how the BRIC group could find common positions.
"China and India, of course, are more interested in lower prices of raw materials, Russia and Brazil are interested in higher prices," says Gernot Nerb, the director of Munich's IFO Institute, an economic think tank. "So, indeed, I see certain conflicts in trying to balance this."
A recent commentary on Dow Jones Newswires says there are large differences between BRIC countries' economies and, therefore, their priorities.
BRIC, it says, is just at "the infant stages" of becoming a true power bloc.

RFE/RL's Bernd Volkert contributed to this report
World Economic Crisis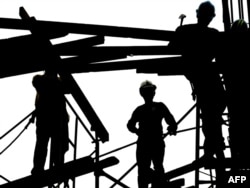 Multimedia coverage on the impact of the global financial crisis on markets and individuals across RFE/RL's broadcast region. More