Belarusian Prosecutor-General Warns Opposition Activists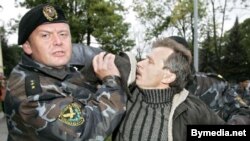 Two Belarusian opposition activists received an official warning from the state Prosecutor-General's Office today.

United Civic Party leader Anatol Lyabedzka and party activist Mikhas Pashkevich were warned for their alleged involvement in coordinating the operations of the newspaper "Glotok Vozdukha" (Gasp of Air).

Lyabedzka told RFE/RL's Belarus Service that the Prosecutor-General's Office said he and Pashkevich are involved in the newspaper's activities and author articles in the periodical that have been critical of the Belarusian government.

The prosecutor-general said that with those reports, Lyabedzka is breaking two laws, the first one about protecting the honor of the country's president, and the second is about discrediting the state.
About This Blog
"Watchdog" is a blog with a singular mission -- to monitor the latest developments concerning human rights, civil society, and press freedom. We'll pay particular attention to reports concerning countries in RFE/RL's broadcast region.
Journalists In Trouble
RFE/RL journalists take risks, face threats, and make sacrifices every day in an effort to gather the news. Our "Journalists In Trouble" page recognizes their courage and conviction, and documents the high price that many have paid simply for doing their jobs. More