(A trailer for Burhan Qurbani's feature debut, "Shahada.")

(RFE/RL) -- As the 60th anniversary Berlinale film festival enters its final days this weekend, critics are lining up with predictions about who will be awarded the coveted Golden Bear on February 20.

Many top entries, as well as films shown "out of competition" this year, deal with Islam and the West.

Indeed, the Berlinale has developed a reputation for presenting films that have controversial political and social themes.

The 20 films competing for the coveted Golden Bear Award at this year's 60th anniversary Berlinale are no exception.

Afghan Debut

"Shahada," the debut feature film of Afghan-German director Burhan Qurbani, is one such film. It was well-received at its premiere in Berlin on February 17.

"Shahada" -- the declaration of faith in Islam -- tells the story of three young German-born Muslims who struggle to reconcile their family faith and traditions with a modern, Western lifestyle.

The 29-year-old Qurbani uses cinema to ask what Islam really is and what it means to be a "good Muslim." Guilt is a central theme.

Qurbani's characters -- like the fiery young girl Maryam -- openly challenge intolerance among Islamic clerics or their peers, only to be targeted by pressure within their own community and families.

Qurbani, himself born in Germany of Afghan parents, told a press conference before his February 17 screening that he considers himself to be "a Muslim 2.0 -- an upgrade."

"I wanted to show in my film that Muslims and Islam are not only one face -- Arabic with a beard -- but are extremely colorful," Qurbani explains.

Qurbani admits that growing up as a Muslim in a Western society, he sometimes made lifestyle decisions that made him feel guilty for, in his words, "not being a good Muslim." He says he eventually managed to deal with his feelings of guilt and realized that he could conduct his faith in his own way. That, he says, is what "Shahada" is really about.

"Our film is naturally a call to dialogue -- let's talk to each other. Let us have a calm discussion," Qurbani says. "I think that's great. I hope the film will reach a new audience which will then begin to argue, to talk, to discuss. That was the aim of this film, so -- let's talk."

Iranian-born actress Maryam Zaree, who plays Maryam, says the film shows that Germany is made up of people with many different backgrounds and faiths. She notes that all members of the film's crew have roots in different countries, but are "all German nonetheless."

Austrian filmmaker Feo Aladag addresses controversial Islamic issues with his first feature film, "When We Leave." It is a carefully crafted film starring Sibel Kekilli as Umay -- a German-Turkish woman whose father decides to have her killed after her decision to leave her husband.

Aladag says the point of his film is that so-called "honor killings" are wrongly portrayed in Western media as expressions of Islamic fundamentalism, and have little to do with religious ideology.

Aladag says honor killings are a lot older than Islam or any other religion. He says it is a "misuse of the religion" to call honor killings "Islamic" because there is nothing in the Koran about honor killings.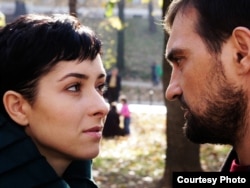 A scene from Jasmila Zbanic's film, "On the path"
Meanwhile, "On The Path," by director Jasmila Zbanic, explores the trend toward Islamic fundamentalism in her native Bosnia.
Premiering on February 18, Zbanic's film is the story of a young Muslim woman named Luna who questions her love for her husband, Amar, when he abandons his hard-drinking ways and finds solace in the conservative Wahhabi sect.
As with "Shahada," Zbanic's film examines how ordinary people are caught up in the forces of history.
Zbanic told journalists in Berlin today that "On The Path" explores several issues that she has become obsessed with in the aftermath of the Balkan wars of the 1990s.
"One of the things is changes in my country -- this transition that everybody is going through in personal relationships, in individuals, in society, and of course, women in the change," Zbanic said. "Of course, there is a change that I noticed in Bosnia -- which is more people going into religion -- that I wanted to research."
Outrage
Zbanic says that just before she started to write the script for "On The Path," she had been infuriated by an old friend of hers -- a Bosnian man recently drawn to Islamic fundamentalism -- who refused to shake her hand because she was a woman.
Zbanic said that incident was a "trigger" that made her want to better understand not only why her friend behaved in such a way, but also why she herself became so angry.
"After that, I felt this was the right path for me to write a story -- going in this direction, exploring society but also exploring my own beliefs and my own questions through my characters," Zbanic said.
Zbanic says she hopes her film will help start a serious dialogue about Islam, fundamentalism, and stereotypes of Muslims -- a dialogue that goes beyond "yelling and shouting."
One film has fueled outrage and violence in some quarters in India, after premiering at the Berlinale on February 12 -- "My Name Is Khan," the latest work by Bollywood superstar Shah Rukh Khan.
"My Name Is Khan" is not in the competition for the Golden Bear, but it has raised many questions about intolerance among fans of Indian cinema.
At nearly three hours, it is an epic story that explores the discrimination faced by Muslims in the United States after the September 11, 2001 terrorist attacks.
Instead of Khan's usual Bollywood extravaganzas, "My Name Is Khan" tells the story of a man who is detained at an airport in the United States and interrogated because of his Muslim-sounding name. Khan uses the film to preach against hatred.
Ironically, "My Name Is Khan" has become a magnet for Hindu-Islamic tension now that it is being screened back in India. There have been political protests outside of some theatres. One cinema in New Delhi was attacked by a group of protesters for showing the film after Khan criticized the lack of Pakistani cricketers in the Indian Premier League.
Those protests have prompted the deployment of police as precautionary security at further screenings in Mumbai and New Delhi. But that has not stopped cinemas from being sold out.