TEHRAN/LONDON (Reuters) -- Iran has freed two more Iranian employees at the British embassy in Tehran, the British government said on July 1, out of nine originally held on accusations of involvement in postelection unrest in the Islamic state.
An embassy source said two Iranian staff remained in detention, but the Foreign Office in London declined to confirm this.
"Two of our staff have been released over the last two days," the Foreign Office said in a statement. "We are also seeking confirmation following Iranian reports that a further member of staff has been released today."
Iran's state Press TV said earlier that only one person remains in detention. Iran's Foreign Ministry was not immediately available for comment.
Earlier on July 1, the semi-official Fars News Agency said that one of those detained "had a remarkable role during the recent unrest in managing it behind the scenes." It said another embassy employee had been a "main element behind the riots" but had been freed because she had diplomatic immunity.
Britain has denied Iranian accusations that embassy staff were involved in instigating mass protests over the June 12 election won by hardline President Mahmoud Ahmadinejad.
The European Union has pledged a strong, collective response to any Iranian harassment of staff at European embassies.
Britain and Iran have already expelled two of each other's diplomats since the election, which stirred Iran's most striking display of internal dissent since the 1979 Islamic revolution and strained ties with the West.
In London, British Prime Minister Gordon Brown expressed his "deep disappointment at the recent behaviour" of Iran, including the detention of British embassy staff.
"This action is unjustified and it is unacceptable and some people in Iran are trying...to use Britain as an explanation for the legitimate Iranian voices calling for greater openness and democracy," Brown said.
Iran Election Special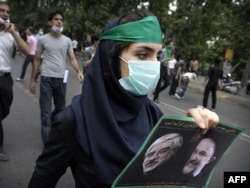 RFE/RL's Full Coverage
Following the disputed reelection of Iranian President Mahmud Ahmadinejad, supporters of Mir Hossein Musavi have taken to the streets to protest.
Click here
for news, blogs, and analysis of the presidential election and aftermath.