The governor of Afghanistan's central bank has sought to dispel media speculation that the country's largest private bank, Kabul Bank, is in danger of collapse.
"I assure you that Afghanistan's central bank -- with all power and capabilities -- is standing behind Kabul Bank," Abdul Qadir Fitrat told reporters in Kabul on September 1.
Western media reported on August 31 that the central bank took over Kabul Bank after discovering evidence that the bank -- due to its shady operations -- had lost hundreds of millions of dollars, and that the bank's losses by far exceeded its assets.
Fitrat, however, insisted on August 31 that the bank "has no liquidity problem."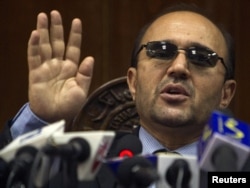 Central bank chief Abdul Qadir Fitrat backed Kabul Bank's solidity.
Financial experts in Kabul say the collapse of the country's largest commercial bank would undermine Afghanistan's entire financial system. Kabul Bank deals with salary payments of Afghanistan's public-sector workers, police forces, and soldiers, and holds $1.3 billion in savings from ordinary Afghans.
The central bank has reportedly ordered the chairman of Kabul Bank to hand over $160 million worth of Dubai real estate that was purchased with the bank's money, allegedly for multiple people with ties to the government.
Mahmood Karzai, the brother of President Hamid Karzai and reportedly one of the main shareholders of Kabul Bank, has been linked to ownership of a Dubai villa registered under the name of Kabul Bank Chairman Sherkhan Farnud.
Farnud and chief executive Khalilulah Feruzi stepped down on August 31. Masud Khan Musa Ghazi, a former central-bank official, has been appointed Kabul Bank's new chairman.
Accompanied by both Farnud and Ghazi at a Kabul press conference, central-bank chief Fitrat said the two top executives had decided on their own to resign because of new rules preventing major shareholders from occupying managerial posts in banks. Farnud and Feruzi are both major shareholders in Kabul Bank.
According to the new rules, managerial positions in banks should be "filled with highly professional, experienced and professional people with high integrity," Fitrat said.
Allegations Of Questionable Ties
Western media reported on August 31 that the two top executives were summoned by the central bank on August 30, threatened with arrest, and forced to resign. According to the reports, the government intervention into Kabul Bank's affairs was reportedly approved by President Karzai after he was briefed on the bank's irregularities.
The bank enjoys close connections to Karzai and not only through his brother, Mahmood, who reportedly owns more than 7 percent of its shares. The bank has reportedly provided millions of dollars to Karzai's 2009 presidential reelection campaign, for which Feruzi worked as an adviser.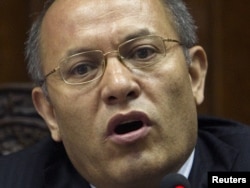 Kabul Bank Chairman Sherkhan Farnud has stepped down.
According to U.S. media reports on August 31, American investigators believe that close ties to the president have been instrumental in protecting Kabul Bank's murky operations from investigations so far.
Afghan officials told U.S. media that Farnud had been using the bank's money to "reward" himself and powerful political allies capable of protecting and advancing his financial interests.
According to unnamed Afghan officials, Kabul Bank lost an estimated $300 million after the Dubai real estate market collapsed in 2008.
Mahmood Karzai has distanced himself from Farnud's financial operations, saying only that he had rented Farnud's villa in Dubai and that he planned to move out.
According to "
The New York Times
" on August 31, Kabul Bank also had alleged ties with the New Ansari money-transfer firm, which faces investigation on suspicion of illegally transferring billions of dollars out of Afghanistan for politicians, drug dealers, and insurgents. The daily reports that Kabul Bank used New Ansari to transfer at least $60 million out of the country.
Citing an unidentified central-bank official, "The New York Times" also reported that Farnud has allegedly been using the bank's money to cover the losses of his private airline, Pamir Airways.
'Too Big To Fail'?
Kabul Bank was among the first private banks to come into existence in Afghanistan after the collapse of the Taliban, and it's credited with introducing ATMs and banking culture to Afghans.
With 68 branches in 34 provinces, Kabul Bank is widely popular with ordinary Afghans.
Sayeed Masood, a financial expert and Kabul University professor, says the collapse of Kabul Bank would shatter confidence in the entire Afghan banking system.
"Ordinary people have invested their hard-earned money -- their last $100 or $500 -- in Kabul Bank, and it's their life savings. They can't afford to lose it," Masood says.
Bank deposits are not guaranteed by the central bank. "According to Afghanistan's laws on banks and private banks, there is no guarantee for people's savings deposited in banks in case of a bank's collapse," Masood says. "If the bank collapses, people's money would be lost along with the bank's assets."
Such a scenario would also further harm Afghanistan's reputation as a country where corruption is rampant and has deep roots, according to Masood.
At the September 1 press conference, however, the central bank's Fitrat stressed that clients' savings were safe with Kabul Bank.
"I assure all Kabul Bank customers all over Afghanistan to continue in their daily lives with peace of mind, and not to be bothered by reports and rumors," Fitrat said.
"Kabul Bank is one the most important banks in Afghanistan, and the central bank and government of Afghanistan, at any cost, won't let Kabul Bank get into trouble."
RFE/RL's Radio Free Afghanistan contributed to this report