Visiting Vice President Dick Cheney has pledged the United States' "deep and abiding interest" in the security and welfare of Azerbaijan and its neighbors during the first leg of a tour to highlight support for several former Soviet states.
Cheney's visit began in Baku and will include stops in Tbilisi and Kyiv, affording him a firsthand view of Azerbaijani's prominent role as an energy supplier, Georgia's current crisis with Russia, and domestic political turmoil in Kyiv.
In a reference to Russia's military campaign to oust government forces from the breakaway Georgian republics of Abkhazia and South Ossetia and its quick support for their independence, Cheney echoed a previous statement by a senior U.S. administration official who described the region as lying in "the shadow of Russia's recent power play."
"We've met this evening in the shadow of the recent Russian invasion of Georgia," Cheney told reporters as he sat next to Azerbaijani President Ilham Aliyev. "President [George W.] Bush has sent me here with a clear and simple message for the people of Azerbaijan and the entire region: the United States has a deep and abiding interest in your well-being and security."
Cheney's stop in Tbilisi is seen as a sign of U.S. support for Georgia following the conflict over the pro-Moscow rebel region of South Ossetia. Ahead of his arrival, the U.S. administration announced an aid package of some $1 billion to help Georgia rebuild from the fighting. Reuters quoted a U.S. official as saying the assistance would stretch over several years.
"Georgia has a strong economic foundation and leaders with an impressive record of reform," President Bush said in a statement confirming the aid, according to AP. "Our additional economic assistance will help the people of Georgia recover from the assault on their country, and continue to build a prosperous and competitive economy."
As Bush was announcing the U.S. largesse, the International Monetary Fund (IMF) said it had agreed to lend Georgia another $750 million to be used toward economic recovery.
Energy Routes
In Baku, Cheney also said the United States believes it must work with Azerbaijan on additional energy export routes.
Azerbaijan pumps nearly 1 million barrels of crude oil a day through a BP-led pipeline that passes through Georgia and Turkey -- and bypasses Russia.
"I think [the Bush administration] does want to send [Russia] a message of firmness," Stanley Kober, a longtime analyst of Russia and the Soviet Union, told RFE/RL. "But my concern here is the rhetoric, at least, is becoming extreme."
Kober likened the current maneuvering to a game of chess: "You make a move, and then the other guy makes a move. And one of the problems is that I'm not seeing enough attention to 'Well, if we do this, what will be the response?'"
The U.S. vice president's trip comes as Russian President Dmitry Medvedev prepares to host the leaders of six former Soviet countries at a meeting of the Collective Security Treaty Organization in Moscow on September 5. Medvedev is expected to seek support from fellow CSTO signatories Armenia, Belarus, Kyrgyzstan, Kazakhstan, Tajikistan, and Uzbekistan for Russia's military intervention in Georgia and subsequent recognition of the South Ossetian and Abkhaz independence.
In Baku, Cheney was meeting behind closed doors with Azerbaijani President Ilham Aliyev and other top officials in a country that is home to some of the region's largest oil and gas reserves and is part of a major energy pipeline corridor.
But there is much more behind the visit than just energy, according to Vefa Quluzade, who served as foreign-policy adviser to the late Azerbaijani President Heidar Aliyev, the current president's father.
'Vulnerability'
Quluzade said the vulnerability that Azerbaijan feels following Russia's incursion into Georgia would be on everyone's mind, in light of its role in the supply of oil and gas to the West, and predicted that "they will discuss how to save Azerbaijan from [potential] Russian attack."
Azerbaijan has diverted some of its crude through Russia, citing the conflict in Georgia as part of the reason.
The two Caucasus countries are also both important in plans for the Western-backed Nabucco pipeline, which would link Central Asia gas suppliers to Europe, bypassing Russia.
While Cheney was in Azerbaijan, Russian Foreign Minister Sergei Lavrov was asked at a news conference with Belgian
"We are interested in fulfilling the Medvedev-Sarkozy plan in the shortest term possible," Lavrov said of a French-brokered cease-fire to end the most intense fighting in Georgia. "It is written in black and white in that plan that until international mechanisms have been created, Russian troops will carry out additional security measures, and that is what Russian peacekeepers are doing in the security zone now."
Lavrov called calls for an immediate withdrawal "quite strange."
Russian Troops Remain
Outside the breakaway republics, Russia is maintaining a troop presence in swaths of Georgia in what Moscow has suggested is a sort of buffer zone, as well as checkpoints outside the Black Sea
port of Poti.
Azerbaijan has long played a middle-man in its relations with the United States and Russia, but its strong and immediate support for Georgia in its crisis with Russia could be indicative of a change of course.
"I think that Azerbaijan had till now a balanced policy between Russia and the United States, but now it is the time to say openly, 'What is Azerbaijan's orientation?'" Quluzade told RFE/RL. "If we are orienting to the West, we must ask the West to support us strongly. And I think we are orienting to the West, and I think President Aliyev will ask Dick Cheney to provide security for Azerbaijan."
Adding to Baku's insecurity, he said, is that -- like the flashpoints of South Ossetia and Abkhazia -- Azerbaijan has its own unsettled conflict in Nagorno-Karabakh.
Cheney will head to Tbilisi on September 4 and from there to Kyiv, with talks with the Ukraine's leaders on September 5.
Russia has withdrawn some forces but others are still inside Georgian territory as part of what Moscow says is a peacekeeping mission but which Tbilisi has called an occupying force.
In Ukraine, Cheney was scheduled ahead of his trip to meet on September 5 with President Victor Yushchenko and Prime Minister Yulia Tymoshenko, whose ruling coalition collapsed on September 3.
After Kyiv, Cheney heads to Italy to attend an economic forum.
Analyst Kober said the best Cheney can hope to do during his trip is to express U.S. opposition to Russia's role in the Georgia crisis, U.S. support for Georgia's efforts to establish democratic reform, and not make any promises unless he's fully confident that this and subsequent American administrations can keep them.
RFE/RL's Azerbaijani Service contributed to this report; with additional wire reporting
Crisis In Georgia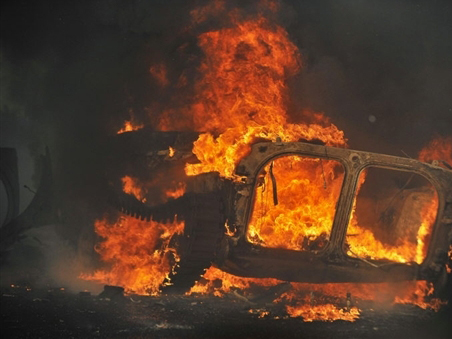 For RFE/RL's full coverage of the conflict that began in Georgia's breakway region of South Ossetia,
click here
.