BRUSSELS -- An emergency EU summit has concluded unexpectedly early with the bloc's new top jobs going to two virtual unknowns on the European political scene.

Belgian Prime Minister Herman van Rompuy will take office on January 1 as the bloc's first-ever full-time president. Briton Catherine Ashton will head the office of a beefed-up high representative for foreign affairs later that month, subject to approval by the European Parliament.

Both are uncontroversial choices that are unlikely to upstage leaders of the EU's larger member states.

Van Rompuy has been Belgium's prime minister for six months. Though successful in keeping his fractious country together, he has virtually no name recognition in Europe.

The same is true of Ashton, an obscure British politician with a life peerage who has never been elected to public office. Her only claim to European fame is a year spent in Brussels as EU trade commissioner after her flamboyant predecessor, Peter Mandelson, stepped down to join the British government in late 2008.

Blair Breakthrough

Both were presented to the media with great fanfare.

Sweden's prime minister, Fredrik Reinfeldt, whose country will now be the last to hold the EU's rotating presidency in its current format, was visibly relieved at having avoided a dreaded night session.

"This is the new leadership team of Europe we are presenting at this historic press conference after years of discussion, preparations, getting everything in place," Reinfeldt said.

Officials said the final breakthrough came when the British government formally gave up on the candidacy of former Prime Minister Tony Blair -- who was seen as too high-profile and divisive to assume the EU presidency -- and put forward Ashton as its candidate for the foreign minister's position.

The appointments bring to an end a period of constitutional change and upheaval within the EU which was set in motion in 2001 with an eye on the upcoming enlargement.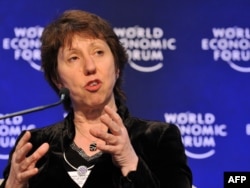 Catherine Ashton
A backlash following the 2004 enlargement saw the EU's Constitutional Treaty rejected by French and Dutch voters in 2005. A less ambitious version of the treaty was finally ratified earlier this month after two Irish referenda and compromise over a last-minute Czech objection.

The speedy and unanimous decision to pick van Rompuy and Ashton for the two top jobs created by the Lisbon Treaty came as a surprise after weeks of alleged divisions within the EU. There were fears the bloc's leaders would have to resort to a majority vote, which would have inevitably damaged the credibility of the two appointees.

The president of the European Commission, Jose Manuel Barroso, handed Swedish Prime Minister Reinfeldt a Rubik's Cube at the postsummit press conference and said it was a token of his appreciation of Reinfeldt's perseverance and mediation skills.

Barroso said it had been "impossible to make a better choice" than van Rompuy and Ashton.

Self-Effacing

Van Rompuy, from the Flemish part of Belgium, was picked on the strength of his record as a successful conciliator and negotiator in the Belgian body politic, which in recent years has been increasingly paralyzed by infighting between the Dutch-speaking Flemish majority and the French-speaking Walloon minority populations.

A self-effacing figure, he is expected to act as a chairman of EU leaders' meetings rather than be a high-profile figurehead with personal ambitions.

In his comments after the choice, van Rompuy pledged to respect the sensitivities of all EU member states and made it clear he will strive to avoid conflict and achieve consensus.

"As far as I'm concerned, every country should emerge victorious from negotiations. A negotiation which ends with a defeated party is never a good negotiation," he said.

He also laid out what can only be called a list of noncontentious priorities: the effects of the financial crisis and its social and economic fallout, climate change, energy, and the security of EU citizens.

All are areas where EU jurisdiction is uncontested -- unlike foreign and defense policy, direct taxation, and budgetary matters, where member states enjoy unfettered sovereignty.

Van Rompuy also promised "absolute discretion" in his dealings with the media. During his acceptance speech, van Rompuy switched easily between French, English, and his native Dutch.

Given that they are virtually unknown in Europe, the appointments of van Rompuy and Ashton came immediately under fire tonight from journalists.

British Prime Minister Gordon Brown responded to a suggestion that "99 percent of European citizens" won't know either of the new leaders by saying that the selection procedure reflects the democratic will of the electorates in the EU's 27 member states.

"There are 27 member states and they hold their own elections as to who the governments of those states are," he said.

"And we come together in the European Council, so the 27 leaders from each of the European states, they come together, and they have to make the decision about who is chairman of their council and the high representative, which is the new post for foreign affairs."

Presidential Role?

Van Rompuy will take office as EU president on January 1. Catherine Ashton, who as EU foreign minister is also vice president of the European Commission, must still undergo hearings and a confirmation vote at the European Parliament together with the other commissioners.

EU officials say the new commission is expected to be sworn in on January 21.

Van Rompuy said he will in future attend all EU summits with outside governments and organizations to "present the political positions of the European Council" -- in other words, EU leaders.

Ashton is expected to take charge of foreign policy issues, although a turf war with van Rompuy remains a real possibility as their job descriptions appear to overlap.

Van Rompuy also said that European Commission President Barroso, who represents community jurisdiction, will speak on issues other than foreign policy when he attends summits.

What remains unclear is the future role of the leaders and foreign ministers of the countries holding the six-monthly rotating presidency -- which will carry on, albeit with a limited remit.

Spain's Prime Minister Jose Zapatero has already said he will not "play second fiddle" when his country takes over from Sweden on January 1.