Vasyl Klymentyev was last seen last week, when he met a colleague to discuss an article he was writing about a local prosecutor and a tax official.
The editor of "Novyy Styl," a weekly newspaper in the eastern city of Kharkiv, Klymentyev is a well-known critic of the authorities. Police say they suspect he may have been killed.
Klymentyev's deputy, Petro Matviyenko, told RFE/RL's Ukrainian Service that he and Klymentyev had met on August 11 to discuss photographs they'd taken of mansions belonging to regional tax chief Stanislav Denisyuk and other officials.
The authorities say Klymentyev was last seen later that day getting into a BMW with an unknown man. A manhunt is under way and officials are investigating on charges of "possible premeditated murder."
Klymentyev's case is raising new questions about the state of press freedom in Ukraine after pro-Moscow President Viktor Yanukovych came to power earlier this year in an election that repudiated the Orange Revolution and its pro-Western leaders.
Journalists Up In Arms
Opposition figures say the media crackdown is part of a wider drive to blunt criticism of the government.
In Kyiv, journalists are planning a strike on August 21 to protest the government's decision to withdraw the licenses of several television stations, including Chanel 5 and TVi. The Kyiv-based media watchdog Telekritika says those two channels are the only independent and unbiased television stations remaining in the country.
Some of the channels have appealed the decision, and a court is set to hold hearings on the issue on August 26.
TVi director Mykola Knyazhytskyy told RFE/RL he'd sent Yanukovych a letter protesting the deteriorating state of press freedom in Ukraine.
"I had to inform the president not only about our court case, but also about tendencies in the Ukrainian media, where free speech is being violated," Knyazhytskyy said.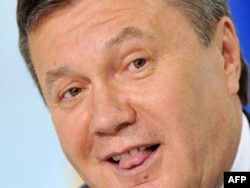 Journalists accuse President Viktor Yanukovych of abusing his authority with the media.
Yanukovych has denied the accusations. "Tell me who prevents you from writing the truth?" he asked a group of reporters today. "Give me their names, identify the companies and their owners. So far I haven't received any concrete answer."
But international pressure is starting to pile on Yanukovych's administration. Last week, the Vienna-based International Press Institute issued an open letter to Yanukovych urging him to respect press freedom, citing "a climate of impunity" surrounding the increasing numbers of attacks on journalists.
Officials from the Parliamentary Assembly of the Council of Europe, Europe's main human rights watchdog, have also expressed concern over journalists' complaints about censorship and physical attacks.
'Authoritarian State'
Knyazhytskyy said his letter urged Yanukovych to look at the actions of officials connected to his own office.
"I described the fact that several groups of influence around the president are using absolutely illegal methods and non-European practices, and are engaged in conflicts of interests," Knyazhytskyy said.
"They're pressuring the courts, and using the special services to fight against journalists. Those groups are trying to monopolize power and change Ukraine into an authoritarian state."
The European Union and Organization for Security and Cooperation in Europe have also criticized the government over the media environment in Ukraine.
Critics say the government is pressuring not only journalists, but also small and medium-size businesses, seen as the opposition's backbone of support.
They say the government has also moved to control the judicial system by giving the president power over the hiring and firing of judges.
written by Gregory Feifer in Prague, with material from RFE/RL's Ukrainian Service