The European Union says it has received a personal assurance from Russian President Dmitry Medvedev that he has ordered a halt to military operations in Georgia.
Before Medvedev's announcement of a halt to military operations in Georgia, the mood in the Russian capital appeared uncompromising.
Russian Foreign Minister Sergei Lavrov, speaking after talks with his Finnish counterpart and current OSCE Chairman Alexander Stubb, had sharp words for the West, which he said had failed to persuade Tbilisi to renounce its use of force in its separatist region of South Ossetia.
He also indicated that, regardless of cease-fire proposals already on the table, Moscow would engage in no further dialogue with Georgian President Mikhail Saakashvili.
"Any future steps toward the de-escalation of tensions and the restoration of peace will have to be clarified at a later stage," Lavrov said.
"Moreover, I won't hide the fact that our approach, the Russian approach, to the negotiation process is going to have to undergo substantial changes, because we have lost all remaining trust in the Georgian leadership."
The statement came hours before French President Nicolas Sarkozy, representing the EU Presidency, arrived in Moscow for talks with Medvedev on the Georgian crisis.
Sarkozy, who had come prepared to demand a Russian pullback, instead welcomed Medvedev's announcement, and called for all sides to return to preconflict positions in long-term peace negotiations as quickly as possible.
"The announcement of the end of hostilities by Russia is the news that we have been waiting for," Sarkozy said. "Now it is necessary to implement the cease-fire and to draw a quick timetable so that everyone returns to the positions they held before the conflict."
The Georgian leadership says it remains "prepared for anything" and remains skeptical of the Russian pullout announcement.
Meanwhile, the leaders of at least four Eastern European nations --Polish President Lech Kaczynski, Lithuanian President Valdas Adamkus, Ukrainian President Viktor Yushchenko, and Estonian President Hendrik Ilves -- are traveling to Tbilisi in a show of support for the Georgian government. Sarkozy is also due to move on to the Georgian capital.
In Brussels, NATO ambassadors are meeting in Brussels for closed-door talks to discuss the trans-Atlantic alliance's response to the conflict in Georgia. A separate meeting of the NATO-Russia Council had been scheduled for August 12, but was postponed at the last minute. EU foreign ministers will meet in Brussels on August 13 to discuss Georgia.
with agency reporting
Crisis In Georgia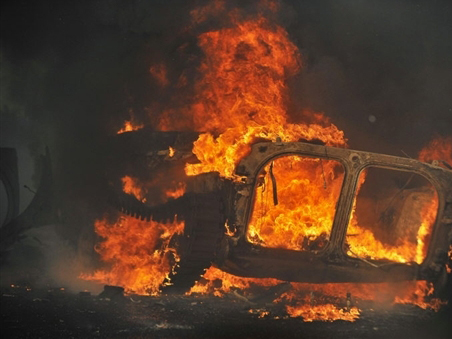 For RFE/RL's full coverage of the conflict that began in Georgia's breakway region of South Ossetia,
click here
.