PITTSBURGH – The last time the leaders of the major world economies met, the global economy seemed on the brink of depression.
In April in London, members of the G20 were under intense pressure to take steps to prevent a global economic meltdown. Their common decision to invest massive government funds into economic stimulus packages is seen as the main reason a bigger crisis was averted.
Now, with signs of a global recovery beginning to appear, the elite economic grouping of developed and developing economies is meeting under calmer circumstances. Here in Pittsburgh, they are focused on how to keep the economic recovery on track while laying down new rules to prevent the same mistakes being made again.
Late on September 24, there was news of a major agreement to that end. The White House said in a statement that leaders had endorsed the G20 as the "premium forum" to discuss international economic cooperation," giving emerging economies a greater say on global economic issues.
U.S. President Barack Obama is expected to announce the plan on September 25.
That means the G20 will supplant a smaller grouping of major developed economies -- the United States, Britain, Canada, France, Germany, Italy, Japan and, later, Russia -- which has met annually for more than 30 years on global economic issues. The G8 will continue to meet on security issues.

No More Imbalances


As the host of this summit, Obama arrived in Pittsburgh with a message of balanced economic growth.
Over a day and a half of informal meetings, lavish receptions, and working dinners he will try to persuade his fellow leaders to adopt what White House officials are calling "a framework for balanced and sustainable growth," one that contains "policies, parameters and [a] process" to "avoid the sort of imbalances that contributed to this crisis."
U.S. Treasury Secretary Timothy Geithner told reporters that the United States is determined to prevent another financial meltdown.
"Our key objective for the summit is to establish consensus on much stronger standards across our financial systems. We are not going to walk away from the greatest economic crisis since the Great Depression and leave unchanged and leave in place the tragic vulnerabilities that caused this crisis," Geithner said.
One particular area of criticism has been the insufficient capital reserves that many banks were guilty of maintaining last year, which deeply exacerbated the effects of the crisis.
Bonus Battle
Some divisions in the group revealed themselves on the first day of the gathering.
German Chancellor Angela Merkel warned that the summit must prioritize agreement on financial market regulation – specifically, strict limits on hedge funds and bonus pay for bankers -- which she believes is necessary to limit risky behavior.
British Prime Minister Gordon Brown and Obama are trying to avoid getting directly involved in pay limits by linking bonuses to the level of banks' reserve capital.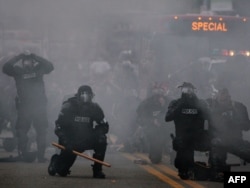 Police used tear gas to disperse G-20 protesters.
Geithner said on September 24 that the group had reached agreement on a "basic outline" of a proposal to limit pay and bonusus by the end of the year.
Obama is also expected to try and persuade the group to end government subsidies that encourage the use of fossil fuels like oil, coal, and natural gas, which are thought to contribute to global warming.
Aides say he will propose a gradual phase out, which developing countries like India and China are likely to oppose.
Unlike his visit to the UN earlier this week, Obama doesn't plan to hold any bilateral meetings with his fellow leaders in Pittsburgh.
The summit ends September 25 with a joint communique, which doesn't carry binding obligations.
White House aides say they don't expect "major announcements of new, significant financial commitments" but say they are hopeful that the communique will include mechanisms for the group to hold each other accountable to the new framework.
Protesters, Police Clash

All day on September 24, arriving delegations were brought under heavy police escort into downtown Pittsburgh, which thousands of police and National Guard troops have encircled with a bristling security perimeter.
Law enforcement agents fill the streets, patrol the skies in helicopters, and monitor the city's three rivers from the decks of Coast Guard vessels and gunboats.
Throughout the day protesters were kept well outside the downtown area and were largely peaceful in their demonstrations against the world's elite economic leaders.
The spirit of activism even triggered unrelated protests, including against the Burmese military junta's imprisonment of democracy icon Aung San Suu Kyi, and the alleged power grab of Ethiopian Prime Minister Meles Zenawi.
As evening fell, a group of a few hundred protesters tried to make their way inside the security perimeter and were met by police in riot gear and on horseback. Canisters of tear gas were dropped and nonlethal concussion grenades were lobbed. Sound cannons that emitted high-pitched noises caused many of the marchers to retreat.
Protesters threw rocks at police and smashed a number of shop windows. Police reported 15 arrests.