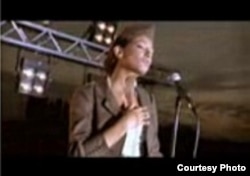 Georgian pop singer Nini Badurashvili in a music video some have attacked as xenophobic and militaristic
TBILISI -- The war in August between Tbilisi and Moscow over Georgia's breakaway region of South Ossetia was fought on more than the military front.
In Georgia, artists and singers joined forces, producing songs and programs they said were meant to encourage the nation and demoralize the enemy.
"Georgia, Georgia! Be strong in times of hardship, defy your enemy, and fight for the truth."
Five days into the Russia-Georgia war, with anger and despair reaching its peak in Tbilisi, this song -- recorded by 44 of Georgia's top musical artists -- was performed live during a rally outside the Georgian parliament building.
Speaking at the August 12 rally, lawmaker Giorgi Gabashvili hailed the song, which calls on Georgians to remain resolute in times of trouble.
"Friends, just imagine! Alongside our soldiers, our countrymen from the world of arts and culture are also doing their best," he said. "A group of artists has composed this song to encourage the whole of Georgia -- our soldiers, our cities, and our villages."
In recent years, Georgia has frequently used the stars of its cultural scene to press political points. Last year, pop singer Nini Badurashvili drew notice with a
military-themed music video
showing her singing to Georgian troops about reclaiming the separatist region of Abkhazia.
Simple Xenophobia?
The recent conflict with Russia only intensified the trend. Television producers quickly introduced a program featuring well-known performers, like legendary theater actor Guram Sagharadze, reciting patriotic Georgian poetry.
"Having been known for ages for our bravery and courage, we should make it known to all -- we may die in the fight, but our souls will remain as a messenger of life."
Not all of the efforts aspire to a similar level of refinement, however. The song "Russia 2008," composed by singers Temo Rtskhiladze and Zura Doijashvili, is aimed not at inspiring the Georgian public but in deriding Russia.
The song, which compares Russian peacekeepers to skinheads and pokes strongly worded fun at the Kremlin leadership, warns ordinary Russians they, too, will suffer because of the actions of their government.
An
accompanying video
, which juxtaposes mocking images of Prime Minister Vladimir Putin and Russians in varying stages of drunkenness with graphic photographs from the war, was aired by a number of Georgian broadcasters, including the nationwide channel Rustavi-2.
Composer Rtskhiladze, who lived in Russia for over a decade, defends the song as an appropriate message for the people of Russian about the dangers of Kremlin aggression.
"When I wrote the lyrics and composed the music, the first person I sang it to was a Muscovite, a friend of mine who was visiting," Rtskhiladze says. "He liked it very much and said Russians needed to hear it, in order to be able to see their true face. That's what he said. We're in a war with Russia, aren't we? We're all firing back, with whatever means we have."
Not everyone is amused, however. Sozar Subari, Georgia's public defender, says the song's anti-Russian rhetoric will spark a wave of xenophobia among the Georgian public, and has called on broadcasters to keep it off the air.
"This song is defamatory toward Russians as a people. The swear words and insults in the lyrics are directed not toward specific politicians, but toward the entire nation," Subari says.
"I don't think this is an appropriate attitude. The populations of different nations shouldn't go at each other like this, even in the fiercest conflicts. We have a lot of Russian citizens living here in Georgia -- just as there are many Georgian expatriates living in Russia."