By Nikola Krastev
NEW YORK -- The sudden death of music legend Michael Jackson has sent shock waves around the globe, as fans mourn the passing of one of the world's most famous pop icons.
In the Bulgarian city of Varna, dozens of followers turned out after midnight for an impromptu vigil in memory of the 50-year-old star, who died June 25 in Los Angeles after being rushed to the hospital in a coma.
Jackson's death quickly became the most-discussed item on yandex.ru, Russia's most popular web portal, while searches for "Michael Jackson" on baidu.cn -- China's answer to Google -- increased a hundred-fold in the hours following his death.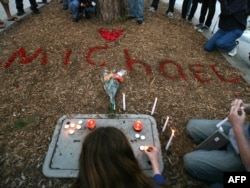 A makeshift memorial to Michael Jackson at the UCLA Medical Plaza in Los Angeles
It has been reported that even though Russian President Dmitry Medvedev favorite rock act is Deep Purple, he's had a weak spot for Michael Jackson ever since his early student years.
He's not alone.
Jackson's 1982 album "Thriller" is the best-selling album of all time, with sales reaching 109 million.
Jackson was arguably the only American artist whose influence was as great elsewhere in the world as it was back home in the United States. And as news spread of his death by suspected cardiac arrest, people across the globe expressed a mixture of grief, confusion, and regret.
'Final' Concerts
Jackson's fortunes had faded in recent years as the childlike star was dogged by child-abuse allegations and an expensive and bizarre penchant for plastic surgery. But there were hopes that the performer would resurrect his career with an ambitious 50-concert gig at London's O2 Arena starting in mid-July.
The news of Jackson's death was met with shock and disbelief in Harlem, traditionally a citadel of African-American culture in the United States.
A sprightly middle-aged man who gave his name only as Rocky told RFE/RL that the news of Jackson's death -- coming just hours after the death of another beloved American icon, television actress Farrah Fawcett -- had left him numb:
Another resident of Harlem, 51-year old Maxine, who described herself as a "single grandmother" who also goes by the name of "Champagne," told RFE/RL she is heartbroken:
Jackson, who had performed as part of a family act since the age of 5, emerged as a major solo artist at the dawn of the music-video era. A talented dancer as well as singer, his performances were electrifying and made him a household name worldwide -- even in the countries of the former Soviet bloc.
For reasons that were never fully understood, Jackson received an unofficial blessing from communist censors, who allowed "Thriller" to be licensed and issued as a vinyl record by the Soviet recording company Melodia in 1985.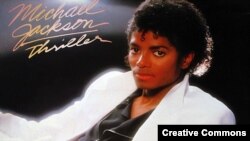 Michael Jackson's "Thriller," the biggest-selling album of all time
Jackson's popularity in Eastern Europe in the late 1980s was matched only by that of supergroup ABBA from Sweden. His stunning video clips and original dance moves inspired a generation of performers in the former communist bloc. His live concert in Moscow in 1993 sparked near-hysteria among scores of Russians hungry for a taste of Western culture.
Even when Jackson was well beyond his prime, he was still capable of attracting massive audiences. In August 1996, it was reported that more than 150,000 people attended Jackson's concert in the Czech capital, Prague. A huge statue of Jackson briefly stood in the spot where a monument to Josef Stalin had once stood.
Jackson's legal problems in the United States and accusations of child molestation did considerable harm to his reputation at home, but they had little influence on the public perception of Jackson's music in the former communist states. His popularity transcended ethnic, racial, and political divides -- Jackson was as much adored in a Roma village in Romania as on a slick dancing floor in a Moscow discotheque.
In Harlem, where Jackson was much loved, many of the people interviewed by RFE/RL said that he was unfairly hounded by the media and that repeated accusations of child molestation were never really proven.
A 26-year-old African-American man who gave his name as Transformer told RFE/RL he listened to "Thriller" as a toddler and vividly remembers the impression that Jackson's music videos made on him as a child:
Jackson is survived by three children, his parents, and eight brothers and sisters.