TEHRAN (Reuters) -- An Iranian court has charged a French woman, two Iranians working for the British and French embassies in Tehran, and dozens of others with spying and aiding a Western plot to overthrow the system of clerical rule.
The European Union, France, and Britain all condemned the trial. The Swedish EU Presidency said in a statement "action against one EU country, citizen, or embassy staff, is considered an action against all of the EU."
"This is obviously a show trial directed against the EU," Swedish Foreign Minister Carl Bildt told Reuters.
It was the second mass trial in a week aimed at uprooting the moderate opposition and putting an end to protests that erupted after the disputed June 12 presidential election.
At least 26 protesters have been killed and scores arrested in postelection violence. Moderates say the poll was rigged for President Mahmud Ahmadinejad to win, but officials say it was the "healthiest" vote since the 1979 Islamic Revolution.
The protests have exposed deep rifts within the clerical establishment in Iran, the world's fifth-biggest oil producer.
French citizen Clotilde Reiss was charged with "acting against national security by taking part in unrest ... collecting news and information and sending pictures of the unrest abroad," state news agency IRNA said.
Espionage and acting against national security are punishable by death under Iran's Islamic law.
Reiss, a teaching assistant, confessed her "mistakes" and asked for clemency, IRNA said. Nazak Afshar, an Iranian working for the French Embassy, was also charged with "providing information over the vote unrest to foreigners."
"We were not authorized by the embassy to go to rallies, but we were told to shelter protesters if necessary," Afshar said.
The British Embassy employee, Hossein Rassam, was charged with espionage and confessed to handing information about the unrest to Washington, IRNA said.
"The local staff were asked by their superiors at the British Embassy to attend the riots," IRNA quoted Rassam as telling the court. Rassam was freed on $100,000 bail on July 19. "Several British diplomats attended rallies ... The British ambassador and the charge d'affaires also went to a rally."
EU Solidarity
The trial was a further sign that Iran's hard-line leadership was not interested in reconciliation with the moderate opposition or repairing ties with the West, analysts said.
"This is not calculated to heal the divide," said Ali Ansari, an Iran expert at Britain's St. Andrews University.
"It's an attempt by the hard-liners to impose their narrative," he said. "You can't kill that many people on the street and not try to prove that you were right."
Riot police used force to break up a protest by relatives of the accused outside the courtroom.
"Relatives of the defendants and a large group of people gathered in front of the court building on Saturday. When they chanted 'Allahu Akbar' (God is greatest), the riot police attacked them," the reformist Mosharekat website said.
Reiss has been held in Tehran's Evin Prison since she was arrested at a Tehran airport on July 1 as she tried to leave Iran after spending five months in the central city of Isfahan.
Reiss, wearing a black Islamic gown and a white-brown headscarf, sat in the front row in the court. It was not clear whether she had a translator when the indictment was read.
"I wrote a one-page report about the situation in Isfahan ... and handed it over to the French Embassy's cultural section," IRNA quoted her as saying in court.
"France renews its demand for the immediate liberation of the young academic, since the accusations against her are baseless," France's Foreign Ministry said in a statement.
Britain earlier described the trial as an "outrage."
British Foreign Secretary David Miliband said he had received support from France and from Sweden, which holds the European Union Presidency.
"We have reaffirmed our solidarity in the face of this latest Iranian provocation," he said.
At a mass trial on August 1, more than 100 reformists, including a former vice-president and several other prominent figures, were charged with offenses that included acting against national security by fomenting postelection unrest.
Leading moderates, including defeated candidates Mir Hossein Musavi and Mehdi Karrubi, have defied Supreme Leader Ayatollah Ali Khamenei, who has formally endorsed Ahmadinejad.
They say the new government Ahmadinejad is to appoint will be illegitimate. Ahmadinejad has two weeks to name his cabinet.
Iran accuses the West, particularly the United States and Britain, of fomenting trouble after the election in an attempt to topple the clerical establishment. They deny the charge.
The latest indictment accused Washington and London of "providing financial help to Iran's opposition" to fuel turmoil.
The Battle For Iran's Future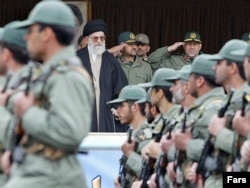 The Battle For Iran's Future
With much more than a disputed presidency at stake for Iranians, RFE/RL's Charles Recknagel and Mazyar Mokfi explore the power plays that could reshape Iran's political establishment.
Click here
for news, blogs, and analysis of the presidential election and aftermath.
Iran Election Special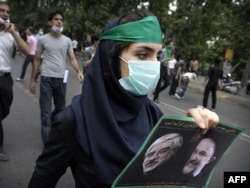 RFE/RL's Full Coverage
Following the disputed reelection of Iranian President Mahmud Ahmadinejad, supporters of Mir Hossein Musavi have taken to the streets to protest.
Click here
for news, blogs, and analysis of the presidential election and aftermath.