TEHRAN (Reuters) -- Iran's influential former president, Ali Akbar Hashemi Rafsanjani, has defied a call by a group of hard-line clerics to back the country's disputed presidential election result, a news agency reported.
On July 24, 50 members of the 86-seat Assembly of Experts called on Rafsanjani in a statement to show more support for Supreme Leader Ayatollah Ali Khamenei, who endorsed the reelection of the hard-line president, Mahmud Ahmadinejad, soon after the June 12 vote, which moderates say was rigged.
Challenging the authority of Iran's most powerful figure, Rafsanjani declared the Islamic republic in crisis in during his sermon on July 17 and demanded an end to arrests of moderates.
"My standpoint [about the election] is the same as I mentioned in the Friday Prayer sermon," Rafsanjani was quoted as saying by the semiofficial ILNA news agency.
The remarks of the cleric, who is head of the Assembly of Experts, which in theory can dismiss the supreme leader, indicated the reformist camp was unwilling to give in quietly despite the pressure.
The election has plunged the Islamic state into its biggest internal crisis since the 1979 Islamic revolution and has exposed deepening divisions in its ruling elite.
Rights groups say hundreds of people, including senior pro-reform politicians, journalists, activists, and lawyers, have been detained by the authorities since the election.
Rafsanjani confirmed there were divisions inside the clerical establishment over the election.
"The existing dispute is related to the election.... If differences [over the election] were resolved, then the dispute would come to an end as well," Rafsanjani said.
Rafsanjani, an architect of the Islamic revolution, warned the postelection power struggle would harm the establishment.
"The leader and I have been friends for over 50 years. We have been through various stages of the revolution together," Rafsanjani said, in a clear answer to the members of the assembly who called on him to show his loyalty to Khamenei by supporting the result. "The leader is my hope to resolve the dispute based on his experiences."
Reformist former president Mohammad Khatami, defeated candidates Mehdi Karrubi and Mir Hossein Musavi have denounced Ahmadinejad's new government as "illegitimate."
Khatami has called for a referendum on the legitimacy of the government. Leading reformists have demanded the release of detained reformists in widespread street protests against the election result.
Iranian official media have said at least 20 people died in violence after the poll.
Musavi and Karrubi have called on the Interior Ministry to allow a gathering on July 30 to commemorate pro-reformers killed since the vote.
Iran Election Special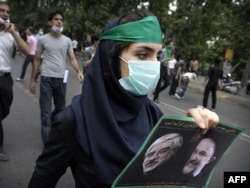 RFE/RL's Full Coverage
Following the disputed reelection of Iranian President Mahmud Ahmadinejad, supporters of Mir Hossein Musavi have taken to the streets to protest.
Click here
for news, blogs, and analysis of the presidential election and aftermath.