TEHRAN (Reuters) -- Iran's Supreme Leader Ayatollah Ali Khamenei has declared that a disputed election result would stand, despite street protests that Iranian officials say Britain and the United States have incited.
"I had insisted and will insist on implementing the law on the election issue," Khamenei said. "Neither the establishment nor the nation will yield to pressure at any cost."
Now that police and religious militia have regained apparent control of the streets after the biggest antigovernment protests since the 1979 Islamic Revolution, Iran's hard-line leadership is blaming the discontent on foreign powers.
"Britain, America and the Zionist regime [Israel] were behind the recent unrest in Tehran," Interior Minister Sadeq Mahsuli said, according to the semi-official Fars news agency.
Foreign Minister Manuchehr Mottaki said Iran was weighing whether to downgrade ties with Britain after each country expelled two diplomats this week. He also announced he had "no plans" to attend a Group of Eight (G8) meeting in Italy this week on Afghanistan.
His remarks, a day after U.S. President Barack Obama said he was "appalled and outraged" by the clampdown in Iran, provided more evidence of rising tension with the West.
Western diplomats had seen the June 25-27 event as a rare chance for G8 countries to discuss with regional powers such as Iran shared goals for Afghanistan and Pakistan.
The unexpected upheaval in Iran has thrown a spanner into Obama's plans to engage the Islamic republic in a substantive dialogue over its nuclear program, which Tehran says is peaceful but which the West suspects is for bomb-making.
Security forces have clamped a tight grip on Tehran to prevent more rallies against the June 12 poll, which reformists say was rigged to return President Mahmud Ahmadinejad to power and keep out moderate former Prime Minister Mir Hossein Musavi.
Khamenei, Iran's top authority, has accepted a request from the Guardians Council, which must ratify the vote, to allow five more days for candidates to lodge complaints, but the 12-man vetting body has already rejected demands for a rerun.
Conservative candidate Mohsen Rezai, who came third in the poll, said he had withdrawn his complaints, citing Iran's sensitive political and security conditions, IRNA reported.
Ahmadinejad will be sworn in before parliament some time between July 26 and August 19, the "Iran News" newspaper said.
Iran Election Special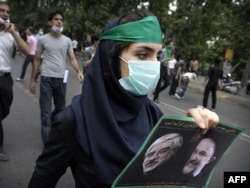 RFE/RL's Full Coverage
Following the disputed reelection of Iranian President Mahmud Ahmadinejad, supporters of Mir Hossein Musavi have taken to the streets to protest.
Click here
for news, blogs, and analysis of the presidential election and aftermath.
Iran Election Diary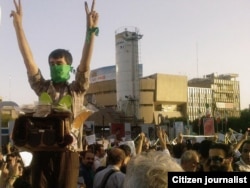 Disputed Presidential Vote
There have been protests and clashes with police on the streets of Tehran following the disputed reelection of Mahmud Ahmadinejad. RFE/RL collects videos, photos, and messages on social-networking sites coming out of Iran to attempt to get a picture of what is happening inside the country.
Click here