TEHRAN (Reuters) -- Iranian Supreme Leader Ayatollah Ali Khamenei has warned Western countries against interfering in Iranian affairs, state television reported.
"We strongly warn leaders of some Western countries not to interfere in Iran's internal matters," Khamenei said. "The Iranian nation will react."
The British government
has confirmed
that authorities in Iran released one of the last two British Embassy employees detained in Tehran after the disputed presidential election.
Iran had arrested nine local embassy workers, accusing them of instigating street protests after the elections. Eight of the nine have now been released.
The Battle For Iran's Future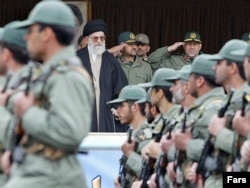 The Battle For Iran's Future
With much more than a disputed presidency at stake for Iranians, RFE/RL's Charles Recknagel and Mazyar Mokfi explore the power plays that could reshape Iran's political establishment.
Click here
for news, blogs, and analysis of the presidential election and aftermath.