Mahmud Tehrani, the nephew of Iran's Supreme Leader Ayatollah Ali Khamenei, says he thinks President Mahmud Ahmadinejad and the Revolutionary Guard are running the show in Iran, not Khamenei.
Tehrani, who lives in Paris and is the son of Khamenei's brother-in-law, dissident Sheikh Ali Tehran, spoke to RFE/RL's Radio Farda broadcaster Mahin Gorji on September 9.
RFE/RL: What's behind the crackdown against those who disputed the results of the June 12 presidential vote?

Mahmud Tehrani:
Unfortunately, until recently a significant number of Iranians thought that this regime could be reformed and it's possible to do it with some discussions and policies. But the [presidential vote], particularly with the coming to power of Ahmadinejad, it has become clear that they can't be reformed with civic discussions and political talks.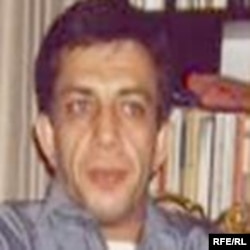 Mahmud Tehrani
I think the positions have become more radical and the opposition more intense. These gentlemen would not launch verbal and political attacks against the conservative camp. But after the election, after it became clear that [the conservatives] are not even ready to give the presidency to anyone else, and they want to keep it even by force, as a result I think that the positions became more radical.
I have some news, even from our family, that there were many people who were not in agreement with Ali Khamenei. They didn't agree with his views and the policies of the Islamic republic, but until before the recent election, they would be considerate and wouldn't talk about it.
RFE/RL: Since the presidential vote, some, including reformist cleric Mehdi Karrubi, have been trying to follow up the cases of those whose rights were violated in detention. Why did we see such a violent reaction against them? Also against people such as Morteza Alviri and Alireza Beheshti, who were arrested?

Tehrani:
The Islamic republic has always dealt with opposition members with violence. They started killing people from the first day they came to power.
Whoever doesn't speak their language and whoever is against them -- no matter if it's a mullah or someone wearing a tie -- is considered "mohareb" [those who wage war against God], an enemy of God. They really think they're God and it has been like that since the beginning. For the [conservative] camp of the Islamic establishment, violence is like a habit or like a duty -- it's their duty to crack down on the opposition.
RFE/RL: What do you think of the stance of Ayatollah Khamenei in the current crisis?

Tehrani:
I think Khamenei -- who is my uncle -- is either a toy in the hands of Ahmadinejad, [Ayatollah Mesbah Yazdi], and the Revolutionary Guard, or he shares their crimes.
There is nothing he can do. If he backs off from his comments even one step, he will lose his leadership and the whole [conservative] camp will disintegrate.
I don't think Ali Khamenei has a lot of power, it's likely that all of this is being run by the Revolutionary Guard, and Ali Khamenei is forced to deal with the [Revolutionary Guard] in order not to lose his role as the supreme leader. He can't do anything and he won't say anything [substantial]. Since June 14 we haven't heard anything from Khamenei other than repeating Ahmadinejad's comments.
Iran Election Special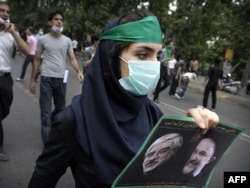 RFE/RL's Full Coverage
Following the disputed reelection of Iranian President Mahmud Ahmadinejad, supporters of Mir Hossein Musavi have taken to the streets to protest.
Click here
for news, blogs, and analysis of the presidential election and aftermath.