Some of the closest allies of Kyrgyz President Kurmanbek Bakiev have criticized his policies at a national assembly the president had gathered as a show of support for his government, amid its plunging popularity.
Delegates at the national assembly, or "kurultai," today condemned the imprisonment of opposition politicians and government pressure on independent media.
Uson Sydykov, who was previously head of the presidential administration, urged his former boss to release former Defense Minister Ismail Isakov and others the opposition describes as political prisoners.
A number of prominent politicians have been tried and jailed in recent years, mostly for abuse of power, after falling out with the president.
Sydykov also called on Bakiev to engage in "direct talks" with political opponents and antigovernment protesters "as they, too, have the country's interests at heart."
"Recently, we -- you and I -- discussed the issue of Ismail Isakov. You have very good ideas regarding him. I suppose you will implement these ideas," Sydykov said. "You, as the head of state, should be generous toward the future of some others [jailed opposition members], as well."
'Liberty' To Radio Liberty
Sagynbek Mombekov, a prominent poet and composer, was one of those who called on Bakiev to let independent media operate "without obstacles."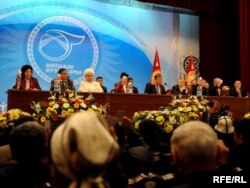 The kuraltai in progress
Hinting at recent interruptions of programs by RFE/RL's Kyrgyz Service, known as Radio Azattyk, in some parts of the country, Mombekov asked Bakiev to allow Azattyk back on the air. And he noted what he said was the crucial role that Azattyk's broadcasts played covering the 2005 Tulip Revolution protests that toppled Bakiev's predecessor, Askar Akaev.
"Even our president, dear Kurmanbek Salievich [Bakiev], came to power thanks to Radio Azattyk," Mombekov said. "Now he is shutting it down. I urge him to give liberty to Radio Liberty."
The Kyrgyz government has come under criticism after access to several independent news websites, including centrasia.ru and ferghana.ru, was blocked and Azattyk rebroadcasts interrupted in some parts of the country this month.
Bakiev's critics accused him of trying to silence independent media ahead of widespread protests and an opposition kurultai in the run-up to the fifth anniversary of the Tulip Revolution today.
'Voice Of The People'
As for the official two-day kurultai that concluded in Bishkek today, Bakiev had been hoping to show his government enjoyed the people's support. Bakiev has repeatedly mentioned since late 2009 that official kurultais -- as the "voice of the people" -- should convene at least once every two years "to give advice to the government."
Bakiev has said that a kurultai, as an advisory body to the country's rulers, is part of Kyrgyz history and tradition.
Some 750 representatives from all Kyrgyz regions took part in the kurultai. The majority of them were government supporters, as delegates were selected with the help of the presidential administration and local authorities.
Bakiev's popularity has waned during the past five years, a period that has seen flawed elections, allegations of corruption, and a lack of democratic reforms.
Bakiev further dashed any hopes for democratic reforms on March 23, when he said that
Western-style democracy had run its course
in Kyrgyzstan. Speaking to the national assembly, Bakiev said democratic values, such as human rights standards and elections, were not relevant to Kyrgyz traditions.
Former Defense Minister Ismail Isakov
"In today's world, the drawbacks of the model of democracy that was accepted in the last century and that was based mainly on elections and human rights is being actively discussed," he said. "But, unfortunately today, there is no certainty that such models are suitable for all countries and peoples."
'Several Steps Backward'
Bakiev's remarks were condemned by some in Kyrgyzstan.
Omurbek Tekebaev, a prominent opposition politician, said today that Bakiev's idea of Kyrgyz-style democracy is "wrong" and that its implementation would mean "several steps backward" for Kyrgyzstan. And he said that if recent elections lacked authority, as Bakiev stated, then the legitimacy of Bakiev's presidency itself is in doubt.
Today's kurultai concluded with a resolution that mainly focused on the economy, development, and culture among other issues.
Calls to stop media harassment remained unanswered. As for the release of political prisoners, including Isakov, the president said, "Isakov will be set free if the law allows that."
Despite the unexpected backfire at the assembly, Bakiev said at the end of the gathering, "The kurultai has achieved its goals."
RFE/RL's Kyrgyz Service contributed to this report