What is known for certain is that the charred wreckage from an automobile accident outside the Kyrgyz capital has significantly raised political tensions.
It is also known that while the government is awaiting DNA tests being conducted in Kazakhstan to confirm the identities of three bodies found in one of the vehicles involved, the wife of Medet Sadyrkulov has said that a chain found amid the wreckage was worn by her husband.
And at a press conference, Interior Ministry spokesman Moldomusa Kongantiev said Sadyrkulov's dentist has identified his remains through his dental records.
What the country's political opposition doubts is whether it was an accident at all.
Calling for an independent inquiry, opposition leaders have accused the government of assassinating a key power broker who had recently left President Kurmanbek Bakiev's government and was rumored to be on the verge of joining the opposition.
The Kyrgyz government denies any role in Sadyrkulov's death. Bakiev has promised to personally oversee the investigation and has warned against jumping to baseless conclusions until its completion.
But opponents say it is the most recent example of a government effort to intimidate the opposition, which has threatened to stage rallies to condemn what it calls the government's increasing pressure on its opponents.
Conspiracy Theories
Before leaving his position as head of the presidential office in January, Sadyrkulov was widely considered the "gray cardinal" of Kyrgyz politics. Before he left, Sadyrkulov had been mediating talks between the president and the opposition.
Leaders of the opposition Ata-Meken party have added to the intrigue by claiming that Sadyrkulov had been planning to join the opposition, and that he would have been capable of raising funds to organize antigovernment protests.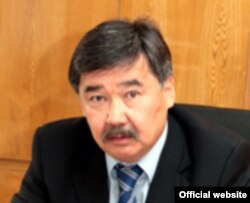 Medet Sadyrkulov
Although Sadyrkulov's departure from the presidential administration led to whispers that he had been forced out to allow Bakiev to appoint someone who was more loyal, Sadyrkulov himself never publicly criticized the president and said in January that he was leaving voluntarily.
"This was my own decision. The work was very hard," Sadyrkulov said, adding that after 2 1/2 years in parliament and then heading the presidential administration, "changes are happening, new tasks have been planned. New people have to come to carry out these tasks."
But the statements Sadyrkulov made in January are doing little to stop the stream of conspiracy theories being proffered by opposition politicians. Many of these theories center on Sadyrkulov posing a great threat to the government because he "knew too much."
Elmira Ibraimova, who left her position as deputy prime minister in January and joined the opposition, has claimed that Sadyrkulov and his fellow passengers were killed before their bodies were moved to the scene of the accident.
Ibraimova told RFE/RL's Kyrgyz Service that Sadyrkulov had received many death threats. "A week ago Medet Chokanovich [Sadyrkulov] told me, 'Some people lurk outside my home all the time, they want to kill me,'" she said. "We had a good relationship and we were in contact with each other."
Sending A Message?
Two years ago, Sadyrkulov reportedly received body parts -- ears and fingers -- that were wrapped up and sent to his home. The opposition United People's Movement says that now, Sadyrkulov's death can be taken as a message to the opposition.
The latest case adds to the already tense political atmosphere in the impoverished Central Asian country, once considered an island of democracy in the region. Pro-opposition journalists and government opponents have increasingly come under pressure in recent months.
Criminal charges have been brought against a number of high-profile opposition leaders.
In one example, former Foreign Minister Alikbek Jekshenkulov has been accused of involvement in the murder a Turkish businessmen, a charge he denies.
In another, Ata-Meken party leader Omurbek Tekebaev was facing illegal-weapons-possession charges after he took part in an unsanctioned rally. Those charges were later dropped.
The country's media situation has also deteriorated of late.
This month, pro-opposition journalist Syrgak Abdyldaev was stabbed more than 30 times outside his office in Bishkek.
That incident was followed by an incident in which a television cameraman, Bakhadir Kenjebaev, was severely beaten by unknown assailants in the city of Osh.
Also in recent weeks, Vitaly Ponomaryov, a prominent observer for the Russian human rights group Memorial, was barred from entering Kyrgyzstan.
RFE/RL's Kyrgyz Service contributed to this report
Crash Scene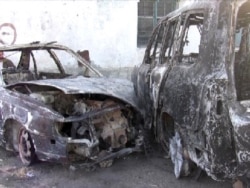 From The Scene
Correspondents for RFE/RL's Kyrgyz Service visited the site of the car wreck that allegedly killed former presidential chief of staff Medet Sadyrkulov. Narration in Kyrgyz. Play