CHISINAU -- International election observers traveling to Moldova have been detained and others expelled, RFE/RL's Ukrainian and Moldovan services report.
Oleksandr Chernenko, a spokesman of the Committee of Voters of Ukraine, said that his nongovernmental organization sent observers to join the European Network of Election Monitoring Organizations (ENEMO), which received permission from Moldovan authorities last week to monitor the July 29 parliamentary elections.
But only 55 of the 140 ENEMO monitors were accredited by Moldovan officials and, on July 27 and 28, Moldovan migration officers detained international observers from Ukraine, Georgia, Russia, and Kyrgyzstan and told them they must leave the country within 24 hours. Eleven Georgian monitors were put on a plane to Istanbul on July 28.
Chernenko told RFE/RL that Moldovan authorities want to have greater control of the elections and the observers they have denied accreditation to, detained, and expelled are veteran election monitors who would help ensure a fair vote.
A Moldovan Central Election Commission official, Iurie Ciocan, said the Georgians were denied entry due to "information from Moldova's intelligence service," though he did not elaborate.
An ENEMO representative in Chisinau, Sergei Tkachenko, told RFE/RL he has hired a lawyer on behalf of the Georgians and will try to "get them in."
He said the Georgians did not have accreditation when they arrived in Moldova, but were supposed to receive it once they reached downtown Chisinau. Georgian citizens do not need visas to enter Moldova.
Moldova expelled several activists and foreign journalists during its April 5 poll, which was followed by street violence and the death of at least one protester.
Moldova Votes Again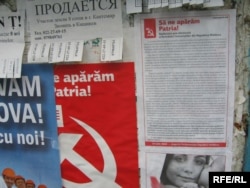 #moldovavotes
Through the eyes of RFE/RL correspondents and editors, guest bloggers, and other contributors who are following the July 29 national elections from the streets of Chisinau and far afield. Plus tweets and pics.
More