CHISINAU -- Two Moldovan NGOs have released their final reports on the election campaign ahead of the July 29 parliamentary elections, RFE/RL's Moldovan Service reports.
Promo Lex, an NGO specializing in human rights, said on July 27 the voter lists are still not entirely accurate, despite the Communist government's promises to "correct" them after the controversial elections on April 5.
The opposition has complained that during the first election many of the lists included names of deceased persons and other irregularities.
In a separate report on July 27, the independent media watchdog Asociatia Presei Electronice criticized four television channels -- including the state-run Moldova 1 -- for favoring the ruling Communist Party and its junior partner, the Christian Democrats, in its programming.
Campaigning for the elections officially ends on July 27 at midnight.
The latest opinion polls showed the Communists winning between 31 and 38 percent of the vote, much lower than the majority they won in the April 5 elections.
Moldova Votes Again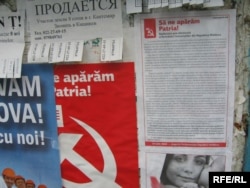 #moldovavotes
Through the eyes of RFE/RL correspondents and editors, guest bloggers, and other contributors who are following the July 29 national elections from the streets of Chisinau and far afield. Plus tweets and pics.
More