Witnesses say hundreds of protesters clashed in Tehran with riot police today.
Police reportedly shot in the air, fired tear gas, and used batons against protesters who have gathered in a square next to the parliament building in defiance of government orders to halt demonstrations.
Amateur video posted today showed young men and women throwing rocks and pushing barricades, one blazing, in the street. Others shouted: "Death to the dictator!"
The latest clashes came as Iran's supreme leader, Ayatollah Ali Khamenei, said the country's establishment will not yield to pressure over the disputed June 12 presidential election.
"The entire nation should respect the law. I have insisted and will insist on implementing the law on the election issue and on keeping the law of the country. Neither the establishment nor the nation will yield to pressure at any cost," Khamenei said.
Official results of the vote gave incumbent Mahmud Ahmadinejad a landslide victory.
Defeated candidate Mir Hossein Musavi has proposed an independent commission to review the results, but Khamenei rejected that idea.
Earlier today, another candidate, the conservative Mohsen Rezai, said he was withdrawing his complaints about alleged vote fraud for the sake of the country.
compiled from agency reports
Iran Election Diary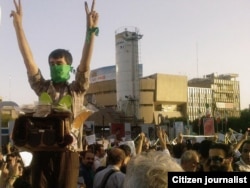 Disputed Presidential Vote
There have been protests and clashes with police on the streets of Tehran following the disputed reelection of Mahmud Ahmadinejad. RFE/RL collects videos, photos, and messages on social-networking sites coming out of Iran to attempt to get a picture of what is happening inside the country.
Click here
Iran Election Special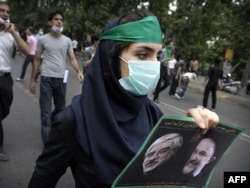 RFE/RL's Full Coverage
Following the disputed reelection of Iranian President Mahmud Ahmadinejad, supporters of Mir Hossein Musavi have taken to the streets to protest.
Click here
for news, blogs, and analysis of the presidential election and aftermath.