New aerial surveys of Afghanistan have revealed a far greater amount of mineral riches than previously estimated.
U.S. officials say the nearly $1 trillion of untapped minerals include deposits of iron, copper, gold, semi-precious gems, and valuable industrial metals like lithium.
Afghan and U.S. officials say that if the sector can be developed, the country's economy can be fundamentally changed -- potentially ending the role of the illegal opium trade as the main pillar of the economy.
Omar Jawad, a spokesman for Afghanistan's Ministry of Mines and Industries, told RFE/RL's Radio Free Afghanistan today that there are great hopes about development.
"New technical studies show that Afghanistan has more mineral resources than was previously estimated," Jawad said. "Undoubtedly, the exploitation of these mineral fields will have a significant effect on the economy of Afghanistan and its people."
Senior U.S. officials say they now think the value of Afghanistan's undeveloped mineral deposits is nearly $1 trillion. That's almost 300 times the value, estimated by the United Nations, of illegal opium exported from Afghanistan in a year.
'Saudia Arabia Of Lithium'
Wahidullah Shahrani, the Afghan minister of mines and industry, is expected to provide more details about the new geological research during a press conference he has scheduled in Kabul on June 17.
With the right foreign investment, he hopes Afghanistan can eventually be transformed into one of the most important mining centers in the world.
"The New York Times" says it obtained an internal Pentagon memo stating that Afghanistan could become the "Saudi Arabia of lithium" -- a key raw material in the manufacture of batteries for laptop computers.
General David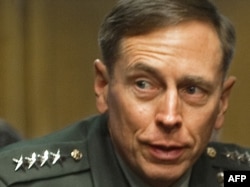 General David Petraeus: "Hugely significant"
, the head of the U.S. military's Central Command, told the paper that the latest research reveals "stunning potential" for the development of Afghanistan's mineral industry.
Petraeus was careful to say "there are a lot of ifs" but that he thinks the findings are "hugely significant."
Even if Afghanistan wasn't facing the security concerns of an ongoing insurgency, it would take years for the industrial infrastructure to be developed that would allow Afghanistan to fully exploit its mineral resources.
Road and railway connections need to be built -- not only to provide access to mineral fields for vehicles and heavy machinery but also to carry mined resources to international markets.
Electricity Needed
Mining operations also require enormous amounts of energy. That means electricity plants need to be built close enough to the newly surveyed mineral fields that would be developed.
The failure of international forces during the last eight years to provide the security needed in Helmand Province to restore power generators at the Kajaki dam bodes ill for plans to develop mining in other parts of southern and eastern Afghanistan where the insurgency continues to rage.
But Jawad told RFE/RL that the potential is so great that heavy investment could be attracted even before mines are profitable -- providing more jobs for Afghans.
"We have started working on the [ implementation] of new procedures. We hope to be able to put up those mines for tender in six months' time on which the studies have already been finished," Jawad said. "We would like to take action regarding the implementation of these mines soon and by doing so we hope to ensure the economic growth in the country."
Undiscovered Resources
It was preliminary research by the U.S. Geological Survey, conducted in 2007, which first hinted that Afghanistan's mineral resources were greater than previously thought. That survey concluded that copper and iron ore resources had "the most potential for extraction in Afghanistan." The research also found known and potential undiscovered resources of cobalt, chromium, silver, barite, sulfur, talc, magnesium, salt, mica, marble, ruby, emerald and lapis lazuli. It said known deposits of asbestos, mercury, lead, zinc, fluorspar, bauxite, beryllium, and lithium are also present.
Within a half year of that initial survey, two Chinese mining firms -- Jiangxi Copper Company and China Metallurgical Group -- won a contract through a tender to develop Afghanistan's vast Aynak copper field in Logar Province.
That bid included commitments to build a railroad through Afghanistan to link Central Asia with Pakistan's port city of Karachi. The Chinese bid also included promises to build a power plant in Logar Province that would be big enough to run the mining operations in Logar and also provide electricity to residents.
Afghan officials hope fresh bids to develop other mineral fields in the country will include similar commitments to build infrastructure.
But there also are concerns that Afghanistan's newly discovered mineral riches could lead to further instability as Taliban militants and warlords fight even harder for control of territory with the resources.
There also are concerns that such wealth could amplify corruption -- especially if well-connected oligarchs try to control the resources.
Afghanistan's last minister of mines was replaced after being accused last year of accepting a $30 million bribe to award China the rights to develop the Aynak copper field.
Activists from nongovernmental organizations say care must be taken to ensure that the extraction of mineral resources in Afghanistan doesn't cause irreparable damage to the environment or create grave social problems from the exploitation of cheap labor or the forced movement of villages that were built on mineral deposits.
RFE/RL's Radio Free Afghanistan correspondent Mustafa Sarwar contributed to this report