Ehsan doesn't personally own a Nokia, and over the past few weeks the 26-year-old Tehran resident has actively tried to ensure that friends and family -- or anyone else who will listen -- don't buy the mobile-phone giant's products either.
Ehsan says that he would be proud if his efforts have harmed Nokia, which he accuses of aiding the Iranian government in its "crackdown against freedom" following the country's controversial presidential election on June 12.
According to the moderate Iranian daily "Etemad Melli," many Iranians who sympathize with the protests are boycotting Nokia for providing the Iranian government with the capability to tap mobile telephones, scramble the SMS text messages used by many protesters to communicate, and interrupt calls.
The paper, which belongs to reformist presidential candidate Mehdi Karrubi, headlined its story by saying Nokia sales in Iran have been halved as a result of the boycott, although no figures were provided to support the claim. The report quoted phone sellers as saying that the price of Nokia cell phones has fallen in Iran, and that many people are exchanging their Nokia phones for other brands.
Tehran-based journalist Hadi Nili says it's very difficult to obtain reliable figures to gauge the success of the boycott.
"I spoke to cell-phone sellers, who were unable to confirm it," Nili says. "Some said that, in general, the sale of SIM cards and cell phones has diminished because of network problems, but it's really not possible to confirm that people are buying fewer Nokia cell phones."
In a market where the sale of mobile phones has boomed in recent years, Nili believes that Nokia remains the first choice for many Iranians despite the boycott.
The Iranian economic daily "Donyay-e Eqtesad" reported on July 13 that one high-end Nokia phone, the Xpress music 5800, is currently the top seller in the Iranian market.
One 37-year-old woman in Tehran who owns a Nokia phone says she hadn't heard about the boycott campaign. She expresses concern that the government could possibly tap her phone, but adds that she does not plan to join the boycott because she can't afford to buy a new phone.
Listening In
The Nokia boycott campaign was launched following reports that Nokia Siemens Networks, a Nokia subsidiary that specializes in communications services and networks, provided the Iranian government with a monitoring center.
"The Wall Street Journal" reported on June 22 that the monitoring capability was provided in 2008 as part of a deal under which Nokia Siemens Networks provided Iran with mobile-phone networking technology.
Ben Roome, a spokesman for Nokia Siemens Networks, told RFE/RL that the company provides traditional circuit-switch telecoms equipment to Iran, and that all networks can potentially be monitored.
"When we sell any network, anywhere in the world, we sell it knowing that whoever runs that network has the ability, potentially, to listen in to phone calls running across that network," Roome said.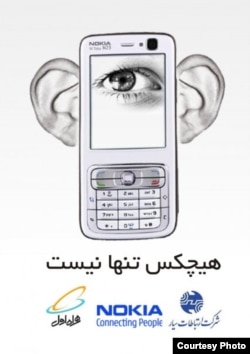 Nokia protest graphic
In the case of Iran, the technology may have given the government the ability to listen in on individual phone conversations, and to track down opposition members and critics. The Iranian establishment is believed to have used the system during the current crackdown, and even before.
Several former detainees have told RFE/RL that during interrogation sessions they were asked about past text messages and calls.
A blog titled "
Boycott Nokia For Iran Crackdown
" has changed Nokia's motto from "connecting people" to "jailing people." It states that Nokia has a responsibility to ensure that its technology is used in an ethical manner. On Facebook, an image is circulating showing a Nokia cell phone with ears, above text that reads: "Nobody is alone."
Nokia Siemens Networks spokesman Roome said the company carefully considers where it does business:
"We rely very heavily, as all international companies do, on international decision makers -- the governments in the countries in which we're headquartered, such as Finland and Germany; the European Union, World Trade Organization; and UN regulations -- about where we can do business," Roome said.
"So, for example we don't sell telecommunication networks to countries like North Korea or to Burma, and also we know very little and saw very little information coming out of those countries."
Going Global
The announcement of a landslide victory by incumbent President Mahmud Ahmadinejad in the June 12 election led to an outpouring of popular anger, leading the Iranian government to quickly ban all foreign media from covering the protests.
In the void of information, mobile phones played a major role in the ability of Iranian citizens to inform their fellow citizens and the outside world about the postelection protests and the brutal government response.
Iranians protesters and witnesses used their phones to film demonstrations and document beatings and shootings by the police and Basij militia forces.
The most tragic video clip recorded the death of a young Iranian woman named Neda, whose final moments were captured by a mobile phone after she was shot in the chest by a sniper. The video was quickly posted on electronic media and social networks such as YouTube and Facebook, instantly making Neda the symbol of the "green" opposition movement.
Ironically, many of the videos coming out of Iran -- some showing protests and citizens on rooftops chanting "Allah Akbar" and "Death to the dictator" under the protection of night -- are likely being filmed on Nokia cell phones.
One activist in Iran who did not want to be named says people should keep using their mobile phones to send out information about the events inside the country, while at the same time pressuring Nokia to cancel its contract with Iran.
Some, including Ehsan, say they have also stopped sending text messages from their phones altogether. Since the country's mobile network is run by the government, the reasoning goes, they hope to deny what they consider an illegal government a potential financial resource.
Sometimes the effort falls short.
Tehran-based journalist Nili says that in recent weeks he has received SMS text messages from friends advising him to stop using SMS's.
RFE/RL's Mazyar Mokfi contributed to this report
Iran Election Special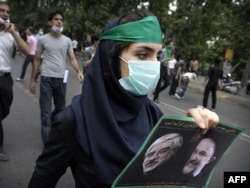 RFE/RL's Full Coverage
Following the disputed reelection of Iranian President Mahmud Ahmadinejad, supporters of Mir Hossein Musavi have taken to the streets to protest.
Click here
for news, blogs, and analysis of the presidential election and aftermath.
Iran Election Diary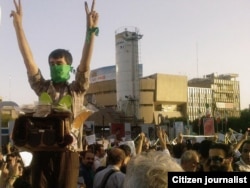 Disputed Presidential Vote
There have been protests and clashes with police on the streets of Tehran following the disputed reelection of Mahmud Ahmadinejad. RFE/RL collects videos, photos, and messages on social-networking sites coming out of Iran to attempt to get a picture of what is happening inside the country.
Click here