WASHINGTON (Reuters) -- U.S. President Barack Obama has urged the Iranian government to "stop all violent and unjust actions against its own people," as protests continued in Iran against the alleged rigging of last week's election.
"The Iranian government must understand that the world is watching. We mourn each and every innocent life that is lost," Obama said in a statement.
"The universal rights to assembly and free speech must be respected, and the United States stands with all who seek to exercise those rights," he said.
Obama's most forceful comments yet on the government crackdown in Iran came as opposition leader Mir Hossein Musavi said he was "ready for martyrdom," according to a Musavi ally, in leading protests that have brought warnings of bloodshed from Iran's supreme leader, Ayatollah Ali Khamenei.
Riot police were deployed in force in Tehran on June 20, firing teargas and using batons and water cannon to disperse protesters, although the estimated crowd of 2,000 to 3,000 on the streets was much smaller than previous demonstrations.
White House officials said Obama, who again refrained from commenting directly on Iranian politics or on the fairness of the disputed election, had been receiving intelligence updates throughout the day on the situation in Iran and meeting with his senior advisers.
"We call on the Iranian government to stop all violent and unjust actions against its own people," Obama said.
Obama has walked a fine line this week in his comments on the election, wanting to avoid be seen as "meddling" in Iranian politics but facing pressure from some Republicans to be a more forceful advocate for those protesting the election in which hard-line Iranian President Mahmud Ahmadinejad was declared the winner by a landslide.
Since taking office in January, Obama has softened the tone of U.S. diplomacy toward Iran, seeking dialogue with the government with which Washington broke relations shortly after the Islamic revolution overthrew the U.S.-backed shah of Iran.
In recent years, Washington has accused Iran of supporting terrorism and seeking to nuclear weapons. Tehran says its nuclear program is peaceful, and that U.S. forces in neighboring Iraq and Afghanistan create regional instability. Earlier this week, Iran accused the United States of issuing "interventionist" statements on the election.
On June 19, Obama, commenting on the unrest, told CBS News that Washington must be careful not to become "a foil for those forces inside Iran who would love nothing better than to make this an argument about the United States."
"The Iranian people will ultimately judge the actions of their own government. If the Iranian government seeks the respect of the international community, it must respect the dignity of its own people and govern through consent, not coercion," Obama said in his June 20 statement.
Iran Election Special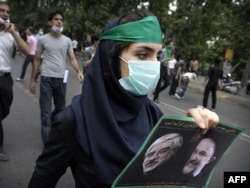 RFE/RL's Full Coverage
Following the disputed reelection of Iranian President Mahmud Ahmadinejad, supporters of Mir Hossein Musavi have taken to the streets to protest.
Click here
for news, blogs, and analysis of the presidential election and aftermath.
Iran Election Diary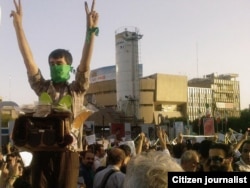 Disputed Presidential Vote
There have been protests and clashes with police on the streets of Tehran following the disputed reelection of Mahmud Ahmadinejad. RFE/RL collects videos, photos, and messages on social-networking sites coming out of Iran to attempt to get a picture of what is happening inside the country.
Click here