Several thousand supporters of Iranian President Mahmud Ahmadinejad's main election opponent clashed with police and set up barricades of burning tires after authorities declared Ahmadinejad the decisive winner in the June 12 election, clearing the way for his reelection to a second four-year term.
Reformist candidate Mir Hossein Musavi and his supporters believe the voting was affected by widespread fraud.
Officials say turnout topped 85 percent, the highest ever for a national election in the Islamic Republic.
As clashes with police intensified throughout the day on June 13, videos and pictures of the protests, along with messages expressing dismay and disbelief at the results, were posted on the websites of Facebook and Youtube. Authorities have now blocked both sites in what appears to be an attempt to prevent news about the protests from being disseminated.
By nightfall, cell-phone service appeared to have been cut in Tehran.
Khamenei Endorsement


Iran's supreme leader, Ayatollah Ali Khamenei, who has the final say in all state matters, praised Ahmadinejad's reelection. In a statement, he said Ahmadinejad's landslide victory was a "real feast that can guarantee the country's progress, national security, and lasting joy."
Khamenei went on to say that the election was a "massive success" and he urged everyone to be grateful for this "divine blessing."
Musavi, who says there were clear "irregularities" in the vote, has appealed to Khamenei to step in and stop what he called violations of the law.
In an open statement addressed to the Iranian people, he described the results as "shocking" and called on officials to acknowledge the people's choice. Musavi said he will not surrender to what he termed a "dangerous charade," and urged his supporters to resist what he called a "governance of lie and dictatorship."
Musavi was due to have a news conference later on Jene 13 in Tehran but the event was cancelled.
The two other presidential candidates, conservative Mohsen Rezai and reformist cleric Mehdi Karrubi received about 3 percent of the vote, according to the official tally.
Karrubi has joined Musavi in saying he does not accept the official results. Ahead of the vote, both men had warned of possible election fraud.
'The Government Lied'


After a mostly quiet morning in Tehran, with a heavy police presence around government buildings, some Musavi supporters began taking to the streets of the Iranian capital. By early afternoon, several thousand protesters had assembled chanting, "The government lied to the people!" Some demonstrators set fire to car tires outside the Interior Ministry. Others blocked a main street, forming a human chain.
A woman who lives in central Tehran and witnessed the clashes from the window of her flat told Radio Farda that she saw people running away from anti-riot police. She said she also saw people throwing stones at the police and heard chants of "Mahmud, get lost!"
The woman said when she went to a newsstand to buy a copy of the official "Iran" daily, the man behind the counter said someone had bought all the copies, which featured a picture of Ahmadinejad on the front page, and burned them.
A Musavi supporter in Tehran who also saw some of the clashes told Radio Farda that people were angry because they felt their rights have been violated.
"The atmosphere in Tehran is tense and convulsive, [but at the same time] there is a very meaningful silence and I can say Tehran does not believe the results that have been announced by the Interior Ministry," he said.
Earlier in the day, Mehdi Arabshahi, one of the leaders of Iran's largest reformist student group told Radio Farda: "So far they have announced that Ahmadinejad has about 20 million votes but based on what we saw [in Tehran] and reports we had from other cities and even villages, it was the opposite of what was announced -- meaning that everyone was pretty sure that a different candidate would win in the first round. And if not, they were expecting a runoff."
Irregularities And Questions
Critics have pointed out the record speed with which Ahmadinejad's preliminary victory was announced, and noted that some local results are highly unusual.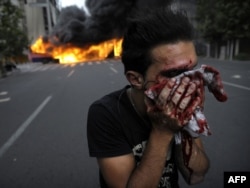 An injured supporter of defeated Iranian presidential candidate Mir Hossein Musavi covers his face during riots in Tehran.
For example, according to the official tally, reformist Karrubi came in a distant second in his own hometown of Oligudarz, garnering less than half of Ahmadinejad's vote.
Sarejeddin Mirdamadi, a reformist journalist in Tehran, says suspicious movements he observed at the Interior Ministry add to his concerns. The Interior Ministry is in charge of counting the votes.
"I wanted to enter the Interior Ministry but they prevented me, even though I had an entry pass," he said. "There I saw that they also prevented a number of the staff who wanted to go to work from entering the building. Later one of them called me and said that a group of personnel from different divisions of the ministry were not allowed to enter the building. "
White House Watching
The official results have also staggered independent Iran watchers.
Karim Sadjadpour, a senior Iran analyst at the Carnegie Endowment for International Peace, told Reuters that no one expected this level of "fraudulence."
Abolhassan Bani Sadr, the first president of Iran following the 1979 revolution, spoke to Radio Farda from his exile in Paris. He went even further, recalling the words of Adolf Hitler's chief propagandist, Joseph Goebbels, who famously said: "If you tell a lie big enough and keep repeating it, people will eventually believe it."
"In my view this is a massive fraud, there is nothing vague about it. Have you forgotten that [Joseph Goebbels] said that you have to tell a lie so big that no one would doubt it?" he said
In Washington, White House spokesperson Robert Gibbs said the Obama administration is paying close attention to allegations of election irregularities.
And U.S. Secretary of State Hillary Rodham Clinton said the United States hopes the outcome of the election reflects the "genuine will and desire" of the Iranian people.

Radio Farda's Mahin Gorji and Alireza Taheri contributed to this report