A field of would-be candidates that once numbered 25 had been winnowed to six men vying to be the next mayor of the southern Russian resort city of Sochi by the end of campaigning.
The post has added significance in light of the political prestige and massive funds that are bound to accompany Sochi's preparations to host the 2014 Winter Olympics.
Voters
go to the polls on April 26
in an election that opposition candidates and outside observers say has been stage-managed to produce a first-round win for Unified Russia's candidate, acting Mayor Anatoly Pakhomov.

Pakhomov's rivals charge that the administration is using such tactics as heavy early voting by state-sector workers and allowing thousands of residents of neighboring Abkhazia to vote in order to guarantee the acting mayor's success.
Darya Guseva, a reporter for the Russian version of "Newsweek" who has covered the Sochi campaign, told RFE/RL that despite early impressions she had come to conclude that even a second round was unlikely.
She predicted "a healthy advantage" for Pakhomov once the votes are tallied.
Pakhomov's rivals on the ballot include prominent opposition politician and former Deputy Prime Minister Boris Nemtsov, local businessmen Pavel Yemelyanenko and Vladimir Trykhanovsky, Communist Party candidate Yury Dzagania, and Liberal Democratic Party of Russia candidate Aleksei Kolesnikov.
Among those who were not allowed to participate in the race were famed ballerina Anastasia Volochkova, billionaire Aleksandr Lebedev, and the deputy head of the Sochi City Council, Vladislav Funtyakov.
Funtyakov, a well-known local journalist and Yabloko member, told RFE/RL how an official from the regional administration made it clear that he would not be allowed to run.
"As soon as I submitted my documents, a highly placed person from the Krasnodar Krai administration told me -- right in front of the election commission building -- that they will not register me and they will not allow me to participate in the election," Funtyakov said.
Media Advantage
The campaign has been strictly controlled by the Krasnodar Krai administration. All local television and radio stations have refused to run paid campaign advertisements, and news media have covered only Pakhomov's activities.
"The television news broadcasts go like this: There are some regional news stories and then a block of stories devoted to Mr. Pakhomov, who is shown meeting with grateful residents of one area and then with the grateful residents of another," journalist Guseva said. "And in many cases they don't mention that he is a candidate, but merely show him in his capacity as acting mayor, although technically he is on vacation during the campaign period. And the other candidates simply don't exist."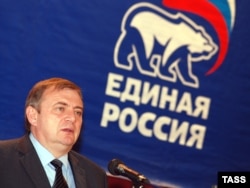 Acting Mayor Anatoly Pakhomov is Unified Russia's pick.
Newspaper and television coverage of Pakhomov in the run-up to voting typically ended with a line to the effect that other campaigns failed to provide information, a statement that opposition candidates called a blatant lie.
"First of all, it is obvious that all the television channels have refused to work with the opposition candidates -- they don't come to campaign events despite being invited; they don't broadcast materials we send them; they all show the same reports which they receive from Krasnodar," said Olga Shorina, who works for Nemtsov's campaign.
She related how all four local evening news broadcasts had broadcast an identical report -- "exactly the same in terms of the images, the timing, the sequencing" -- that she said was "coming from one source, sent down from above to all four television channels."
"Sometimes they don't even bother reading it in different voices," Shorina said.
Below The Belt?
In addition to promoting Pakhomov, local media have subjected Nemtsov to what his campaign team calls a brutal smear campaign.
A man named Oleg Rubezhinsky, a Sochi resident who claims to have worked in the Nemtsov campaign, has been widely interviewed saying Nemtsov is a corrupt narcissist. Nemtsov's campaign insists Rubezhinsky is a provocateur with no connection to the campaign.
The four main local television stations -- including the local branch of state-owned Rossiya television -- last week aired a 20-minute, uncredited film slamming Nemtsov's record as governor of Nizhny Novgorod Oblast in the 1990s and as deputy prime minister under President Boris Yeltsin. The film, which had no opening or closing credits, featured Kremlin-connected analyst Gleb Pavlovsky and scandal-mongering journalist Sergei Dorenko.
"What has this man done in Nizhny?" Dorenko is shown saying in the film regarding Nemtsov's move from Nizhny Novgorod to the national political stage, a promotion the film claims was engineered by notorious former oligarch Boris Berezovsky. "Wages are unpaid. There's unemployment. State property is plundered. It is chaos. And what can this man do on the federal level? The same thing. The exact same thing."
Nizhny Novgorod under Nemtsov was widely regarded as a relatively flourishing Russian region with developing small businesses and a vibrant civil society.
Nemtsov has denounced the film as unfounded defamation.
As a result of the media blockade, opposition candidates are reduced to glad-handing voters and passing out leaflets on the street.
"All the television and radio channels have refused to broadcast paid announcements from the candidates, so we have no choice but to use the old tactics of our grandfathers, worked out in the last century -- we go from house to house, person to person, courtyard to courtyard," Communist candidate Dzagania said of the campaign. "That's how we're distributing our campaign materials."
Nemtsov was reportedly holding seven or eight meetings with voters in markets, parks, and street corners each day.
Room For A Challenge
Nonetheless, ahead of the voting officials appeared to be at pains to ensure that Pakhomov secured the 50 percent of the vote needed to avoid a runoff.
A poll commissioned by the Krasnodar Krai administration and conducted by the Public Opinion Foundation gave Pakhomov 40 percent support, followed by Nemtsov at 18 percent and Dzagania, the Communist candidate, at 8 percent. Twenty-three percent said they were undecided.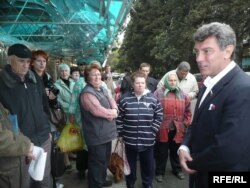 Boris Nemtsov campaigning in Sochi in mid-April
Nemtsov and other candidates charge that officials have adopted other tactics to boost Pakhomov's showing. The general lack of information about the election, they say, is intended to suppress turnout. In addition, the administration has organized massive early voting -- involving some 3 percent of the electorate, including state-sector workers and soldiers.
The local election commission ruled less than a week before the voting that several thousand residents of the Georgian breakaway region of Abkhazia -- which borders Krasnodar Krai and which Russia has recognized as an independent country -- will be allowed to cast ballots, provided they have Russian citizenship and Sochi residency permits. The decision is widely expected to bring Pakhomov thousands of additional votes.
Nemtsov, however, remains hopeful he will be able to force a second round of voting, in which he will be able to consolidate the opposition vote and win the election.
"I think that, having agreed [to run], I have to carry it through to the end," Nemtsov said. "There are too many people supporting me here. In addition, you have to understand that my victory in Sochi will signify -- pardon my immodesty -- the beginning of the democratization of Russia."
RFE/RL's Russian Service contributed to this report