A grainy
surveillance camera video
has surfaced showing two men savagely beating political correspondent Oleg Kashin in the early morning hours of November 6 in the courtyard outside his Moscow apartment building.
The 30-year-old reporter for the daily "Kommersant," who's also a prominent blogger, suffered broken legs, a damaged skull, and fractured fingers. Doctors say he remains in an induced coma but in stable condition.
President Dmitry Medvedev vowed that the authorities would punish Kashin's attackers, "regardless of position, place in society, or accomplishments."
His comments came after speculation about the attack spread rapidly over the Russian Internet, prompting solidarity among journalists and bloggers angry at the lack of press freedoms and threats to journalists' safety in a country media-rights groups rank as one of the most dangerous in the world for reporters.
Few Expect Attackers To Be Found
The online journal
openspace.ru posted a petition
on November 6 asking Medvedev to find the attackers and take steps to protect journalists in the future.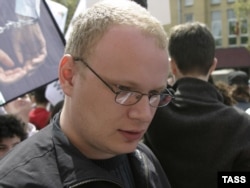 Oleg Kashin covered the demonstrations against the building of a highway through Khmki forest.
But website editor Maria Stepanova says she's unsure whether the appeal will have any effect.
"The hope that Medvedev is going to do something is slim," she says. "But journalists should have the opportunity to call a spade a spade, even if it causes problems."
Attacks on journalists are increasingly frequent in Russia, and assailants are rarely brought to justice. Medvedev acknowledged the public skepticism in his statement, saying: "I have seen it written in the press that they will not be found. They will be found. There is no doubt."
But analysts agree there are few reasons to believe the authorities' track record will be any different this time. Similar pledges in the past have rarely produced results.
"As of now, the dismal experience [we have] shows that in the 200 incidents of attacks on journalists and activists in the past 10 or 15 years, almost never -- with two or three exceptions -- has an investigation been able to find or punish the perpetrators," Nikolai Petrov of Moscow's Carnegie Center says, "and not once has the person who ordered the attack been named.
Who Hated Kashin More?
Amid the public cynicism over the likelihood Kashin's attackers will be found, his colleagues have been offering their own versions. "Kommersant" editor Mikhail Mikhailin says three main possible motives have emerged.
"The first is Oleg's conflict with [Pskov Oblast Governor Andrei] Turchak, which has gained some publicity," Mikhailin says. "The second possible motive is his coverage of the Khimki forest [highway-construction controversy]. The third one is his investigation of extremist organizations."
Kashin has had a long-standing conflict with Turchak, whom he's referred to on his blog by a nickname containing an expletive. He's also compared Turchak to Chechnya's authoritarian President Ramzan Kadyrov. Turchak's son has demanded an apology, and called Kashin "not a journalist, but an informational burp."
Journalists have also pointed to nationalist and pro-Kremlin youth groups such as Nashi and the Young Guard, about whom Kashin has published critical reports. The Young Guard, the youth wing of the ruling United Russia party, recently posted a picture of Kashin on its website with the caption: "Should Be Punished."
Carnegie's Petrov says the pro-Kremlin youth groups were angered by Kashin's reporting on the well-known controversy over the protected Khimki forest outside Moscow, where locals and environmentalists have demonstrated against official plans to build a highway.
The site of the planned highway through Khimki forest outside Moscow.
Noting the reference to Kashin on the Youth Guard website, he says this is "something that is done with the complete knowledge of the authorities and could only happen in the run up to an election."
Russia is due to hold parliamentary elections in December 2011 and a presidential election in 2012.
Khimki Fallout
Kashin has written numerous sympathetic articles about the environmental movement In Defense Of Khimki Forest, which clashed with the authorities over the summer.
Kashin's colleagues point out that other journalists and activists associated with the conflict have also been assaulted. Two days before Kashin's attack, environmental activist Konstantin Fetisov was
severely beaten outside his Khimki home
.
Mikhail Beketov, the former editor of a local paper that closely covered the Khimki movement, was also brutally beaten in 2008.
Attacks against journalists have continued since Kashin's beating. Two more journalists were assaulted on November 8 in incidents that do not appear to be connected to Kashin's case.
Anatoly Adamchuk, a reporter for a local paper in the town of Zhukovsky outside Moscow, was beaten by unknown assailants the same day the editor of a paper in the Volga region was also attacked.
written by Ashley Cleek, with contributions from RFE/RL's Russian Service