A court in Azerbaijan has freed jailed opposition blogger Emin Milli, one day after releasing fellow blogger Adnan Hajizada from prison.
Baku's Court of Appeal freed the two men early in a surprise decision that followed a
worldwide campaign for their release
.
Speaking to RFE/RL, Milli said he hoped his case would "lead to a better protection of human rights in Azerbaijan and will boost the confidence of our youth in its own strength."
"My conviction was the result of an unfair trial. I still don't understand the logic of it, it was simply unfair," Milli said. "Many people face injustice but not everyone gets so much attention. When such a minor case gets so much attention it contributes to the development of society."
Milli said he would continue political blogging and plans to file a complaint against the Azerbaijani government with the European Court of Human Rights in Strasbourg.
Milli's New York-based wife, Leyla Karimli, told RFE/RL that her husband called her immediately after his release. Asked where he was calling from, she reported that he said, "I'm calling from freedom."
Karimli said true justice in the bloggers' case is likely to come from Strasbourg, not Baku.
"If we talk about justice," Karimli said, "justice will be restored when both Emin and Adnan's case is considered by the European Court [of Human Rights], and then the final decision is made about them not being guilty -- if the court decides that they are not guilty, and that the whole case was fabricated, and [that] they spent a year in jail for nothing."
Criminal Libel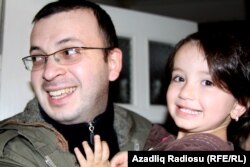 Emin Milli said he hoped his case would help draw attention to human rights violations in Azerbaijan.
Milli and Hajizada were convicted of hooliganism in November 2009 for a brawl that prosecutors claim the bloggers started in a Baku restaurant in July that year. Hajizada was sentenced to two years in prison, Milli was sentenced to 2 1/2 years.
They were detained one week after releasing a satirical video that showed Hajizada giving a mock government news conference dressed as a donkey. The clip -- which earned Hajizada and Milli the nickname "donkey bloggers" -- is likely to have angered President Ilham Aliyev and his entourage, which have grown increasingly intolerant of public criticism in recent years.
Their jailing was strongly condemned by the West as a blow to free speech. In September, U.S. President Barack Obama called for the men's release during a meeting with Aliyev.
Foreign officials and rights groups today welcomed news of Milli's release, but urged the authorities in Baku to clear the pair of all charges.
They also warned that the government still had a long way to go to meet democratic standards.
"We are thrilled that the bloggers Emin Milli and Adnan Hajizada are released. Of course, they should not have been imprisoned in the first place," said Giorgi Gogia, a South Caucasus expert with Human Rights Watch and the author of a recent report condemning Azerbaijan's media clampdown.
"The government definitely has to do more if it is serious about living up to its human rights commitments. Releasing the remaining imprisoned journalists is crucial, but another important step the government needs to take is the decriminalization of libel, because criminal libel lawsuits have been used by the government to retaliate against dissenting journalists."

WATCH: Milli's fellow blogger, Adnan Hajizada, was released on November 18.
In its reaction, the Organization for Security and Cooperation in Europe (OSCE) today urged Baku to "build on this trend" and release prominent journalist Eynulla Fatullayev from jail.
Fatullayev remains in prison despite international calls for his release and a binding decision by the European Court of Human Rights demanding that Baku immediately release him.
The country's Supreme Court last week lifted some charges against Fatullayev. But he remains imprisoned on drug-possession charges brought while he was in prison and that he claims are fabricated.
Still Far To Go
The decision to free Milli and Hajizada comes less than two weeks after parliamentary elections in Azerbaijan that gave the ruling party and its allies a sweeping victory.
Many observers see the bloggers' release as an attempt to dampen international criticism of the November 7 poll, which observers said was marred by severe violations. The arrest of an opposition activist late on November 18 further cast doubt on the government's motives in freeing the bloggers.
Baxtiyar Haciyev, who recently published a video highlighting voting irregularities during this month's election,
was detained while attempting to cross the border
into Georgia, where he studies.
"This shows Azerbaijani authorities are not sincere," said Berit Lindeman, who works for the Norwegian Helsinki Commission, one of the nongovernmental organizations that had lobbied for the two bloggers' release.
She said their release was "aimed at fulfilling something in the eyes of the Council of Europe, for instance, and at reducing criticism. We have seen nothing to show that Azerbaijani authorities want freedom of expression and want to have a free exchange of opinions in the country."
RFE/RL's Azerbaijani service and RFE/RL's Richard Solash contributed to this report