Iranian state-run broadcasters have cited reports saying seven people were killed in violent clashes at a rally in Tehran on June 15.
Shots were fired at demonstrators where hundreds of thousands of Iranians were expressing outrage over the recent presidential election. Many people have been wounded in the clashes.
In his first public comments on the disputed election, U.S. President Barack Obama said he is "deeply troubled by the violence" in Tehran.
He called on Iran's leaders to respect the democratic process and the right of people to peacefully dissent, and said the U.S. government would continue to press forward with its plan to engage Iran on issues of nuclear nonproliferation and terrorism.
The U.S. leader's comments came in response to a reporter's question during a press conference with Italian Prime Minister Silvio Berlusconi in Washington on the evening of June 15.
Obama said, "There appears to be a sense on the part of people who were so hopeful and so engaged and so committed to democracy who now feel betrayed. And I think it's important that, moving forward, whatever investigations take place are done in a way that is not resulting in bloodshed and is not resulting in people being stifled in expressing their views."
He added, "We will continue to pursue a tough, direct dialogue between our two countries, and we'll see where it takes us. But even as we do so, I think it would be wrong for me to be silent about what we've seen on the television over the last few days. And what I would say to those people who put so much hope and energy and optimism into the political process, I would say to them that the world is watching and inspired by their participation, regardless of what the ultimate outcome of the election was. And they should know that the world is watching."
Bloody Monday
The gunfire in Tehran erupted after backers of reformist candidates Mir Hossein Musavi and Mehdi Karrubi marched from Revolution Square in the capital toward Azadi Square.
The demonstrators were unchallenged by regular security forces until they neared a compound set aside for a volunteer militia affiliated with Iran's powerful Islamic Revolutionary Guards Corps (IRGC).
A witness to a purported fatality, an AP photographer, said people in the crowd had attacked the building, which houses members of the Basij religious militia, who then opened fire.
With media access to the area strictly controlled by Iranian authorities, initial reports were unclear about the number of wounded.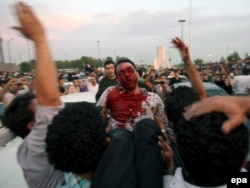 Demonstrators carry a man who was shot during the June 15 rally.
"We were walking together -- my brother is 15 years old -- I was on my way from work when [I saw] there was unrest," the brother of one young man who was hit by gunfire told RFE/RL's Radio Farda by telephone. "The Basijis were there -- they fired shots and [my brother] was hit in his kidney."
More protests are expected in Tehran on June 16.
Websites and text-messaging services have been cut off since polls opened early on June 12.
Mohsen Makhmalbaf, a well-known Iranian film director and a spokesman outside Iran for Musavi, told a protest rally in front of the Iranian Embassy in Paris that "communication is very hard with Iran."
"The BBC is being jammed, but voices are being aired from Radio Farda and [the Voice of America]. Talk to them," Makhmalbaf said. "Don't be like those who advise you not to talk to VOA. We don't have any other media, we don't have SMS (mobile phone text messaging) anymore. Whoever gives you air time talk to them, convey the people's message and voice. Don't let us be censored inside Iran and be silent outside."
He went on to say that Musavi "has two requests" of Iranians: "Ask governments not to recognize this [election], and ask the media to cover the events [in Iran]."
Reformist Outrage
Supporters of Musavi, Karrubi and their reformist allies had assembled in downtown Tehran to protest results of a June 12 presidential election that Musavi and others have said are fraudulent.
The gathering came soon after Iranian Supreme Leader Ayatollah Ali Khamenei -- who has the final word on political and religious affairs under Iran's constitution -- extended support to Musavi's request for the Guardians Council to review the vote count from the election.
Official results said voters favored incumbent hard-liner Mahmud Ahmadinejad by a wide margin.
Former Prime Minister Musavi, appearing before the public for the first time since the controversial vote, reportedly told the crowd of protesters that he is ready for a new election.
"The vote of the people is more important than Musavi or any other person," he reportedly told the rally, held under the watchful eye of riot police and security forces.
Wearing Musavi's green campaign color, his backers showed their support by clapping their hands, chanting Musavi's name, and shouting, "Give back our votes!"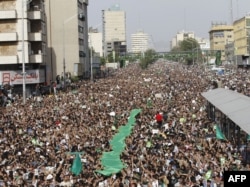 Hundreds of thousands of Musavi supporters gathered in Tehran.
Slogans were also directed against the incumbent who has claimed a landslide victory, President Ahmadinejad, and Supreme Leader Ayatollah Ali Khamenei.
"Mahmud, We will kick you out. Mahmud commits treachery; the leader supports him," they chanted.
Khamenei Weighs In
Despite Ahmadinejad's assurances that the vote was "free and fair," Musavi's supporters believe the results were
rigged
. Musavi has described the vote as a "charade" and called for the annulment of the results.
Musavi has lodged a complaint with the Guardians Council, which has said that it will announce its decision in 10 days.
State news agency IRNA reported that Supreme Leader Khamenei met with Musavi on June 14 and told the presidential candidate that he had asked the Guardians Council to consider his concerns carefully. Iranian state television has reported that the supreme leader also told Musavi to pursue his complaints regarding the election by legal means.
"I have appealed to the Guardians Council but I'm not very optimistic about their judgment," Musavi's website quoted him as telling supporters at the Tehran rally on June 15. "Many of its members during the election were not impartial and supported the government candidate."
Speaking to RFE/RL's Radio Farda, one protester at the rally expressed the anger felt by Musavi supporters.
"We want our vote to count, they have ignored our vote, Iran's leaders have to understand that we are here today so that Ahmadinejad and his band understand that they don't have [the right to do this]. People's votes should have a say in this country, and we know what we had written on the ballots."
Musavi had not made a public appearance since election night, when Ahmadinejad was declared the winner with 62 percent of the vote, enough to prevent a potential runoff vote. But he reportedly arrived by car at the rally to protest against what he has described as a "charade" and "wizardry."
Ahead of the gathering, Musavi's website reported that Mehdi Karrubi, the reformist who finished last among four candidates based on election results released by the Interior Ministry, was also to appear at the rally. Karrubi has also protested against the results and called the June 12 vote "illegitimate."
Disputed Vote
The past two days have been marked by
violent protests
in Tehran and a number of other cities over Ahmadinejad's disputed reelection.
In Washington, the U.S. State Department said it is very concerned by reports of violence and voting irregularities and urged Tehran to thoroughly investigate accusations of problems in the poll.
Spokesman Ian Kelly told reporters, "What we've seen so far gives us some very deep concerns. I think that there has been doubt cast on the outcome of the elections. We see a real desire of the Iranian people to express themselves, to be involved in the political process, and that right needs to be respected."
Ahmadinejad has described the June 12 vote as the "people's election" and said it was "clean and healthy."
But Musavi has
described the vote as a "charade"
and called for the annulment of the results. Karrubi has also protested against the results and called the June 12 vote "illegitimate."
Musavi's and Karrubi's supporters believe there was massive fraud, with some describing the June 12 vote as a veritable "coup."
Radio Farda reported in the early hours of the rally that the protests were peaceful. Reuters news agency reported scuffles between groups of Musavi supporters and supporters of President Ahmadinejad.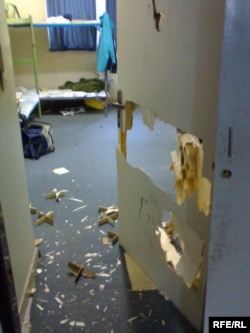 Tehran University dorm after attack by security forces
In the past two days, more than 150 reformist figures, activists, and journalists have been arrested in Tehran and other cities. Observers are warning of an increasing repressive atmosphere in the capital and elsewhere.
In the early morning of June 15, security forces reportedly attacked a Tehran University dormitory and injured a number of students. Some are said to have been detained.
A similar incident reportedly took place at a university dorm in Isfahan.
The attack on the dorm in Tehran came following a crackdown on a protest at the university on the night of June 14, during which students protested against Ahmadinejad's reelection and chanted, "Death to the dictator!"
'Terrifying' Scenes
One student who witnessed the crackdown at Tehran University described the scenes as "terrifying."
"I still can't believe what I saw. [One of Ahmadinejad's supporters] was joyfully beating a student with force," the student says. "The man I saw was laughing and telling the student he was beating, 'I wish your mother could see you when you're being beaten up like this.' "
Later, security forces and plainclothes agents attacked the dorm, breaking down doors, shattering glass, and beating students. Witnesses said sticks and heavy chains were used in the attack.
On the night of June 14, some Tehran residents expressed their anger by shouting "Death to the dictator!" and "Allah Akbar" (God is great) from city rooftops.
Such violent and vocal protests have not been seen in Iran since the 1979 Islamic Revolution.
Radio Farda broadcaster Mohammad Zarghami contributed to this report
Iran Election Diary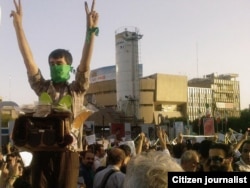 Disputed Presidential Vote
There have been protests and clashes with police on the streets of Tehran following the disputed reelection of Mahmud Ahmadinejad. RFE/RL collects videos, photos, and messages on social-networking sites coming out of Iran to attempt to get a picture of what is happening inside the country.
Click here