British supermodel Naomi Campbell has told Charles Taylor's war crimes trial that she was given some "dirty-looking stones" after a dinner attended by the former Liberian leader.
Campbell told Taylor's trial in The Hague today that she was later told the stones were diamonds and probably a gift from Taylor.
The model was being questioned about claims Taylor gave her an uncut diamond or diamonds after a dinner party in South Africa in 1997.
Prosecutors say, if true, the claims would provide evidence that Taylor possessed uncut diamonds, which they say he used to buy guns for rebels in neighboring Sierra Leone.
Taylor faces 11 war crimes charges in connection with conflicts in Liberia and Sierra Leone that killed more than 250,000 people.
'Dirty-Looking Stones'
The prosecution, led by Brenda Hollis, questioned Campbell, 40, about what she was doing in South Africa in September 1997.
Campbell testified that she was in Africa to appear at some events sponsored by the Nelson Mandela Children's Fund.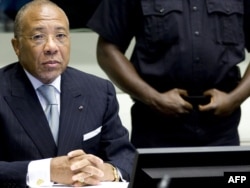 Former Liberian President Charles Taylor at the Special Court for Sierra Leone
After a dinner party attended by both Campbell and Taylor at South African President Mandela's home, Campbell says she was awoken by a knock at the door. When she opened the door, Campbell says, two men handed her a pouch.
"I saw a few stones in there," she said. "And they were very small, dirty-looking stones."
Campbell said she did not immediately recognize the stones as diamonds.
But she said that at breakfast the next morning with her former agent Carol White and actress Mia Farrow, someone pointed out to her that the stones were probably "blood diamonds" from Taylor.
Asked by the judge to clarify, Campbell replied that she really knew nothing about Taylor at that time.
"I just assumed it was. I don't know, I don't know anything about Charles Taylor, never heard of him before, never heard of the country Liberia before," Campbell said. "I never heard of the term 'blood diamonds' before. So I just assumed that it was."
Campbell said that she gave the stones to a friend who she hoped would sell them for charity.

Funding War In Sierra Leone
The timing of Campbell's story is significant to the prosecution, led by Brenda Hollis, which hopes to prove that Taylor had diamonds on him just weeks before a crucial arms deal.
Taylor's defense attorney, Courtenay Griffiths, argued that Campbell's testimony was "entirely based on conjecture."
Taylor, who is currently in prison in The Hague, was president of Liberia from 1996 to 2003. In 2003, he was indicted by the UN-backed Special Court for Sierra Leone.
He is accused of committing various war crimes and crimes against humanity during the civil war in Sierra Leone.
The court alleges that Taylor received diamonds from Sierra Leone's rebel army, in exchange for weapons, which the rebels used during the West African country's civil war in 1991-2002.
The prosecution plans to call White and Farrow to the stand on August 9.
with agency reports