TEHRAN -- Authorities in the Iranian capital have ordered state offices and businesses there closed on July 9 due to fierce sandstorms, Radio Farda reports.
Iranian opposition groups have noted that the timing of the closure is convenient for officials still eager to combat public expressions of frustration over the country's June 12 election, which detractors and two losing candidates allege was massively flawed.
July 9 is also the anniversary of student protests and rioting 10 years ago that sparked an intense and protracted crackdown against proponents of Iranian political reform.
There were reportedly concerns that the most recent election's detractors might try to schedule protests to coincide with memories of that clampdown.
The situation in Iran remains tense nearly one month after incumbent Mahmud Ahmadinejad was anointed the winner of a presidential election that saw unprecedented public participation during the campaign.
The opposition has repeatedly demanded a fresh election, and influential elements of Iranian society have
echoed those calls
.
Supreme Leader Ali Khamenei and the main vetting body, the Guardians Council, have rejected complaints and declared Ahmadinejad the undisputed winner.
Weeklong sandstorms paralyzed swaths of
neighboring Iraq
last week, resulting in hundreds of hospital visits from related illness or injury.
Iran Election Special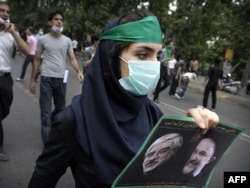 RFE/RL's Full Coverage
Following the disputed reelection of Iranian President Mahmud Ahmadinejad, supporters of Mir Hossein Musavi have taken to the streets to protest.
Click here
for news, blogs, and analysis of the presidential election and aftermath.