UN Secretary-General Ban Ki-moon has called on international donors to speed up aid to Pakistan following catastrophic floods that have ravaged large parts of the country and affected an estimated 20 million people.
Ban issued the urgent plea as he visited the country for a second time to assess the scale of a disaster that has led to 1,600 deaths, left at least 2 million homeless, and threatened to cause the spread of potentially fatal diseases.
Ahead of meetings with the Pakistani president, Asif Ali Zardari, and Prime Minister Yusuf Raza Gilani, Ban warned that stricken areas were not receiving help quickly enough.
"I am here this time, for the second time, to share my sympathy and solidarity of the United Nations, together with the people and government of Pakistan, at this time of trial," he said. "I am here also to see what is going on and what more should be done. And I'm here also to urge the world community to speed up their assistance to the Pakistani people."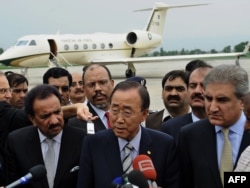 Pakistani Interior Minister Rehman Malik (left) and Foreign Minister Shah Mahmood Qureshi (right) listen as UN Secretary-General Ban Ki-moon addresses reporters on his arrival in Pakistan today.
Nearly two weeks after floods first hit the country of nearly 170 million people, the UN says only one-quarter of the $459 million aid needed for initial relief has arrived. It also estimates that 6 million people urgently need food, water, shelter, and medicine and warns of a second wave of deaths if help does not arrive quickly. The first case of cholera has been reported amid fears that disease could spread among survivors sleeping in tarpaulin tents.
'Time Of Trial'
Ban said he would report his findings to the UN this week after visiting the worst-hit areas.
"I am sure that I will report this matter to the General Assembly of the United Nations," he said, "and we will try to mobilize all necessary assistance. Remember that the whole world is behind the people of Pakistan in this time of trial."
Ban's appeal reinforced a similar plea from the Pakistani government. Gilani, who said on August 14 that 20 million people had been affected, has compared the crisis to the bloody 1947 partition of India which led to the establishment of the Pakistani state.
The civilian government has been criticized for being slow to respond to the unfolding disaster, with most assistance operations being organized by the military and foreign aid agencies.
Devastation Of Crops
Zardari in particular has come under fire for failing to curtail a trip to France and Britain, where he attended a rally of the Pakistan People's Party that formally launched the political career of his son.
Torrential rains and rising flood waters have destroyed bridges and highways and cut off villages from the outside world. New threats are now being posed to Sindh Province and to the province of Baluchistan in the southwest, a region also hit by a decades-long separatist insurgency.
Further misery has been caused by the devastation of crops and basic foods, with at least 500,000 tons of wheat said to have been destroyed. At Kot Addu in southern Punjab, thousands of bags lay ruined as workers were unable to move them quickly enough from the rising tide.
The UN's Food and Agriculture Organization (FAO) has warned of serious threats to the livelihoods and food security of millions. One hundred percent crop losses have been recorded in many areas and tens of thousands of animals have been killed.
Nearly 700,000 hectares of standing crops are under water or destroyed and in many cases surviving animals are without feed, the FAO said.
compiled from agency reports