The United Nations has urged Kyrgyzstan to take "swift and decisive action" to end indiscriminate ethnic killing and to protect people in the southern part of the country near the border with Uzbekistan.

Navi Pillay, UN high commissioner for human rights said killings, including of children, and rapes have been taking place "on the basis of ethnicity" and that the violence "appears to be orchestrated, targeted, and well-planned."
At least 170 people are known to have been killed and more than 1,700 injured in Osh and Jalal-Abad provinces since riots and ethnic clashes began in the area on June 11.

Thousands of ethnic Uzbeks, mostly women, children and the elderly, have crossed the border into Uzbekistan's Andijon border province. UN officials have said the number of ethnic Uzbeks fleeing the violence could exceed 100,000.

Interim Kyrgyz leader Roza Otunbaeva, who took power after a revolt in April that ousted Kurmanbek Bakiev as president, was quoted by Russia's Interfax news agency as saying the real death toll could be "several times" higher than the official numbers.

Bakiev's Hand?

The interim government cabinet on June 15 renewed its accusation that Bakiev supporters had fueled the violence. Bakiev has denied any connection to the unrest.

Deputy leader Almazbek Atambaev said Bakiev's family had financed the violence and might try to incite similar unrest in other regions.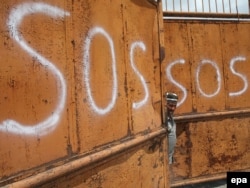 An ethnic Uzbek man in Nariman, near Osh, on June 15
"What happened in Osh was so obviously well-planned, well-produced, and done so well that now we have to expect a provocation in the Chuisky region, in Bishkek," he said. "But we are already prepared for this."

Atambaev specifically pointed the finger at Bakiev's son, Maksim, who was arrested on June 14 in Britain after arriving in a small rented plane, reportedly to seek asylum.

"The New York Times" quoted Atambaev as saying, "It was a carefully planned operation conducted by the enemies of the interim government. The information available to our special services confirms that all of these measures were funded by the Bakiev family, particularly his youngest son, Maksim Bakiev."

U.S. Diplomatic Visit

In Washington, the State Department announced that the top diplomat for Central Asian affairs, Robert Blake, will travel to Tashkent on June 16 and then to the Ferghana Valley, on the border with Kyrgyzstan.

State Department spokesman P.J. Crowley said Secretary of State Hillary Clinton had asked the U.S. diplomat to "see firsthand the current situation involving individuals who have crossed over the border between Kyrgyzstan and Uzbekistan and evaluate directly the humanitarian situation there."

On June 18, Blake will consult with members of the Kyrgyz interim government in Bishkek.

Otunbaeva warned that more violence could occur in Bishkek and said the interim government is "keeping enough forces in Bishkek and...working to ensure that Bishkek stays under our control."

The riots and ethnic clashes began on June 11 in the southern city of Osh and nearby districts. The conflict soon spread to the neighboring province of Jalal-Abad.

Most of the attacks targeted Uzbek minorities and Uzbek-operated businesses, but there were many deaths and casualties among the Kyrgyz population, as well.

After accepting at least 45,000 refugees along with their children, Uzbekistan closed its border on June 14, citing its inability to cope with such a large influx.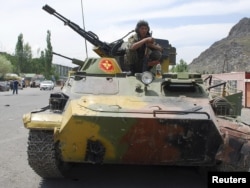 A Kyrgyz soldier mans an armored vehicle in the city of Osh on June 15.
The UN has called on Uzbekistan and Tajikistan to keep their borders open for refugees fleeing the Kyrgyz conflict. Reports say hundreds of would-be refugees have massed at the border and are begging to be allowed to leave Kyrgyzstan.

The country has appealed for international humanitarian aid; the UN refugee agency said it was sending enough aid for 75,000 people to Uzbekistan.

Ethnic Hostilities

The concentrated attacks on ethnic Uzbeks led a top official with the Organization for Security and Cooperation in Europe -- OSCE minorities High Commissioner Knut Vollebaek -- to say that there have been "attempts at ethnic cleansing."

And speaking in Bishkek, UN envoy Miroslav Jenca said the underlying cause of the conflict must be addressed before stability can be achieved.

"The ethnic reasons behind this conflict should not be overlooked," she said. "It is therefore very important that these issues are resolved in a way that creates the basis for the stable coexistence of these ethnic groups on Kyrgyz territory."

But deputy interim government head Omurbek Tekebaev, in comments to RFE/RL's Kyrgyz Service on June 15, said statements about ethnic cleansing were "false" and created misunderstandings about the situation in his country.

At one point, local officials in Jalal-Abad said some ethnic Uzbeks and others who fled the violence had been persuaded to return home. The local press office reported that some 2,000 people had returned home to the nearby district of Nookat.

RFE/RL's correspondents say humanitarian aid is being distributed in the area to local residents who have run out of food supplies as shops and markets were closed in recent days.

Alik Orozov, the secretary of Kyrgyzstan's Security Council, said key international organizations have been sending humanitarian aid to the country, but the security situation remains the main challenge to transport it to the south.

"Because of the security situation, all humanitarian cargo we've got is being kept at Manas airport. We have difficulty in sending this cargo to Osh," he said. "We have a small number of aircraft and they don't manage to transfer all the cargo there. Besides, for fear of snipers, they are afraid of flying to Osh and say security should be provided for them."

written by Farangis Najibullah, based on RFE/RL Kyrgyz Service material and agency reports