One year ago, Russia and Georgia fought a five-day war over the breakaway Georgian region of South Ossetia. Soon afterward, Russia recognized the independence of South Ossetia and another Georgian region, Abkhazia.
Philip Gordon, the U.S. assistant secretary of state for European and Eurasian affairs, talked to Salome Asatiani of RFE/RL's Georgian Service on August 6 about the continuing tensions between Russia and Georgia, as well as the relationship between Moscow and Washington.
RFE/RL: How worried are you about the prospect of another conflict between Russia and Georgia? Many experts, including some in Russia, maintain that Moscow views last year's events as an "unfinished war," and that it might want to "finish the job." Do you see this as a realistic scenario?

Philip Gordon:
We don't want to be complacent about anything. It is a very serious situation. You've got a lot of military forces around -- feelings of tension on both sides.
We don't have any reason to believe that a war is likely to restart. And we are certainly doing all we can to prevent that. But we don't underestimate the seriousness of the situation, which is why we are so closely engaged with both sides and trying to encourage everybody to keep things calm.
RFE/RL: Many analysts, commenting on the "reset" policy between the United States and Russia, say this will be very difficult because Russia and the United States have fundamentally different foreign-policy conceptions. How do you see Russia's current view of international relations?

Gordon:
I think those commentators are right. It will be difficult. If it were easy to have harmonious U.S.-Russia relations, it would have been done a long time ago.
There are some differences in interests and world view. And we've been quite frank about those. The
idea of the "reset,"
though, is that we also have some strong common interests. And we think that if we can focus on those and do pragmatic concrete things in those areas, that maybe that will change the overall tone and suspicion so that we end up having more areas of common interest -- because, frankly, we really should have more than we do.
Why should Russia and the United States compete in the Middle East, for example, when it is in both of our interests to prevent nuclear proliferation, to deal with Islamist extremism, to have a more stable and open Middle East. We have more in common in many parts of the world than we differ on.
But there is, as the result of years and decades of history, a lot of suspicion. And we are trying to deal with that. I do think it is true that many Russians today still see -- and we regret that many Russians today still see the relationship with the United States in zero-sum terms. We'd like to get to a point where we don't see in those terms and we can achieve common interests at the same time.
Helping Georgia

RFE/RL: Russia keeps warning also against potential military assistance to Georgia. Just today, a Russian Foreign Ministry spokesman said that countries should refrain from supplying Georgia with offensive, and ideally, all kinds of weapons and military equipment. Is this going to deter the United States in any way and what kind of assistance is planned for Georgia?

Gordon:
We've said that Georgia does have a right to self-defense and there shouldn't be an arms embargo on Georgia. But we've also said that our focus in terms of our security cooperation with Georgia is on doctrine, professionalization of the armed forces, and training for an Afghanistan mission, which is in our common interest.
We don't see a military solution. We want to avoid a conflict. We're not selling Georgia weapons at present. As for Russia's warnings on this, it really isn't for Russia to decide whether and how Georgia defends itself. But at the same time, we don't want to see any military escalation in the region.
RFE/RL: In your recent testimony to the U.S. Congress, you provided a detailed assessment of the internal political situation in Georgia. The fact that you stressed that it is vitally important for Georgia's next electoral transfer of power to occur in 2013. Yet opposition groups are demanding early elections and President Mikheil Saakashvili's resignation soon. So was this a message to these groups?

Gordon:
No, I wasn't trying to send any deliberate messages to groups, except that constitutional procedures need to be respected.
The healthy thing for Georgia would be letting the people decide. The opposition wants to get rid of the current president. And that is certainly their right. And if in a free and fair election that is what the people choose, then that should be the result. So it's just a consistent message about supporting democracy.
In order for democracy to work, you also need rule of law and media freedom and openness and transparency. Those are the principles the United States is supporting without getting into choosing individuals or parties one over another.
Chronology Of The Russia-Georgia Conflict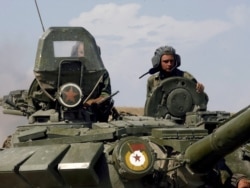 Chronology Of A Conflict
One year after war broke out between Russia and Georgia, many issues remain unresolved. South Ossetia and the breakaway region of Abkhazia unilaterally declared independence, tens of thousands of Georgians are still displaced, and political tensions between Tbilisi and Moscow are simmering. Here is a look back at the key events in the conflict over the past 12 months. Play