KYIV -- It was another command performance by the woman who's portrayed herself as the very symbol of this country.
Standing on stage in her latest glamorous white outfit, her trademark crown of braided blond hair in place, a confident Prime Minister Yulia Tymoshenko addressed a packed auditorium.
Speaking for three hours, she laid out what she would do if elected in the country's presidential election today. Her priority, she said, is to make Ukraine a strong, western-looking country.
"I'll do everything so that during the five years I'm president," she said, "Ukraine will become a member of the European Union."
Ukrainians are to vote for a new president for the first time since the Orange Revolution five years ago. Remarkably, the pro-Moscow candidate who lost the presidency over massive fraud allegations then is now leading the polls to win.
Ukrainians are disillusioned by their leaders' broken promises to clean up the country's endemic corruption and carry out desperately needed economic reforms. But Tymoshenko, the Orange Revolution heroine who's second in the polls, is hoping the freedoms it brought will convince Ukrainians to elect her.
She's promised to pull Ukraine out of deep recession and transform it into one of the world's most prosperous countries.
It's a tall order. Tymoshenko may have the backing of many pop stars and celebrities, an important factor in a country where people are likely to vote more for personalities than policies. But polls give Tymoshenko second place behind pro-Moscow frontrunner Viktor Yanukovych.
Among the 16 other candidates is Tymoshenko's erstwhile Orange Revolution ally, President Viktor Yushchenko, whose poll numbers of less than 3 percent have ruled him out of the race. Their infighting has mired Ukraine in years of political crisis.
Tymoshenko's attacks against businessmen she calls corrupt and her demands for increased welfare spending have led to accusations of populism and authoritarian tendencies. Ties to her own circle of powerful billionaires have also brought allegations of corruption, as did her lucrative former job as head of a natural-gas company that made her a multimillionaire and earned her the nickname "gas princess."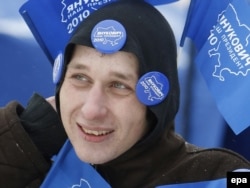 A young supporter of presidential candidate Viktor Yanukovych in Kyiv
But no one questions Tymoshenko's political skill and energy. In an interview with RFE/RL's Ukrainian Service after her talk on January 14, the exhausted-looking prime minister -- with shoes off and with her voice reduced to a hoarse whisper -- said she's never cheated Ukrainians, unlike her main rival Yanukovych.
"He's appropriated everything [he wants]," she said, "including the Mezhyhiria [state residence in Kyiv], as well as the biggest resort in Crimea, which he stole from the state and looks like a palace."
Orange Revolution Legacy
Yanukovych was the villain of the Orange Revolution, which drove him from power after street demonstrations against his victory in a tainted presidential election five years ago.
During a television talk show on January 15, Tymoshenko said Yanukovych was unfit to govern, warning his election would roll back the Orange Revolution's hard-fought democratic gains.
Yanukovych's main support is in the country's industrial, largely Russian-speaking east, where Tymoshenko has accused his Party of Regions of preparing massive electoral fraud.
Yanukovych denies the accusations, saying it's Tymoshenko who controls the government agencies conducting the election. Boris Kolesnikov, one of the leaders of Yanukovych's Party of Regions, says the Orange Revolution's leaders are "commonplace thieves."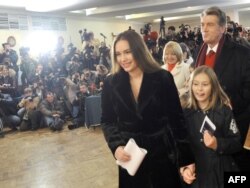 Ukrainian President Viktor Yushchenko (right) votes at a polling station in Kyiv, accompanied by his family.
"Ordinary people fought for the truth in the Orange Revolution," he says, "but the organizers forgot about them. The very next day, they rushed to divide Ukrainian property and confiscate businesses from their rivals."
You wouldn't expect Kolesnikov to praise the Orange Revolution. He was among those temporarily arrested in the aftermath of the Orange Revolution that brought hundreds of thousands to the streets. He denies all allegations of wrongdoing connected to the racketeering charges brought against him.
Whatever the results today, they're expected to be only the beginning of a protracted battle. If no candidate wins a majority, the top two finishers will face each other in a runoff election on February 7. But how many votes each candidate gets in the first round will be crucial for the backroom negotiations over gaining the support of the losers ahead of the second round.
Among the big questions is who will come third. Polls indicate it will be Ukraine's newest up-and-comer Serhiy Tihipko, a wealthy banker and former economy minister who once served as Yanukovych's campaign manager. Trailing him is 35 year-old Arseniy Yatsenyuk, President Yushchenko's former foreign minister.
Volodymyr Fesenko, director of the Penta Center for political studies in Kyiv, says Tymoshenko and Yanukovych will face a tough battle convincing the others to back them.
"The situation between the first and second rounds will be full of intrigue and unknowns," he says. "Tymoshenko can eventually win, but she'll have a number of difficult tasks before the second round."

Fraud Concerns
And there are serious concerns electoral fraud will derail the whole process, with all sides saying they expect violations by other parties. Even if the election ends peacefully, Ukraine still faces ongoing political instability: if Yanukovych wins the election, Tymoshenko will remain a powerful prime minister.
If Tymoshenko wins, Fesenko says, she'll face a serious choice.
"Limit the power of big business and its ties with politics," he says, "or corruption and partisanship will destroy Ukrainian democracy."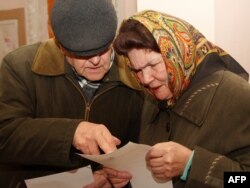 An elderly Ukrainian couple studies the ballot at a polling station 800 kilometers west of Kyiv in Chop.
On the snowy streets of central Kyiv, angry drivers stuck in traffic honk their horns at passing convoys of official black limousines on streets cleared of cars. Many here say they're fed up with officials' failure to address the concerns of ordinary Ukrainians, including high prices and snow piled on the icy sidewalks.
Marina Tatarenko says she's undecided over whom to vote for. "[The candidates] are all the same," she says. "It's just become impossible to live here."
But although many disaffected Ukrainians say they don't care who wins the election, there's a lot at stake, and not just for Ukraine's future. The country of 46 million people is sandwiched between Russia, keen to reassert its influence over former Soviet republics, and western countries that want to see democracy established in Ukraine.
But while Yanukovych has vowed to keep Ukraine out of NATO -- which Moscow fiercely opposes -- experts say his powerful business backers have no intention of increasing Ukraine's dependence on Russia. Yanukovych now downplays his earlier opposition to membership in the military alliance and speaks chiefly about jobs, the top concern for the vast majority of Ukrainians suffering from the global financial crisis.
In the face of Ukrainian politics' seemingly endless chaos, sociologist Iryna Bekeshkina says one thing is clear: despite the general disappointment, the Orange Revolution has made Ukraine a free country.
"You can go out on Khreshchyatyk [Kyiv's main street] and say whatever you want about the president, the prime minister, and anyone else," she says. "No one will threaten you. Just try that in Moscow."