Ukraine's newly elected President Viktor Yanukovych took a major step toward consolidating power after parliament today voted out the government of his rival, Prime Minister Yulia Tymoshenko.
The action opens the way for Yanukovych to form his own coalition, but Tymoshenko has vowed to battle his administration as head of a united opposition.
More than 240 deputies in the 450-seat legislature passed a motion of no confidence in Tymoshenko's government, including seven members of Tymoshenko's own political bloc.
Addressing the chamber before the vote, a defiant Tymoshenko -- the fiery heroine of the Orange Revolution -- said she and other ministers from her party would step down the moment the measure passed.
"Our political force will go into opposition to create a united democratic team," she said.
Speaking before Tymoshenko, Mykola Azarov, a top member of Yanukovych's Party of Regions, called for her removal. Azarov, one of three people Yanukovych says are his candidates for the country's next prime minister, accused Tymoshenko of breaking the law and compounding Ukraine's "catastrophic" economic crisis.
"The government refused to take any serious steps to combat the crisis last year," he said. "It sold and squandered the country's internal resources, amassed colossal debts and completely ignored preparing for the future."
'Anti-Ukrainian Policies'
Tymoshenko defended her government, saying it had protected Ukraine's independence, staved off financial collapse, and maintained Ukrainians' social benefits.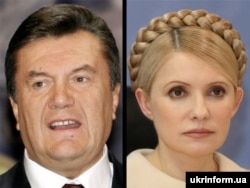 Tymoshenko (right) decried Yanukovych's (left) "anti-Ukrainian policies."
She lashed out at Yanukovych for conducting "strict anti-Ukrainian policies" she said threaten Ukraine's sovereignty and democracy, and promised to battle the new president "every day."
"If Yanukovych thinks he'll be able to calmly play golf and tennis while his circle quietly dismantles the state's strategic assets," she said, "I can say today that his golf and tennis will come to an end."
Tymoshenko called today's vote a "moment of truth" for Ukraine that would indicate where its politicians stood.
Yanukovych will now try to consolidate his power by forming his own governing coalition. But he faces a difficult period of negotiations as politicians from various parties jockey for positions in the new government.
Yanukovych has 30 days to form a coalition, after which he may dissolve parliament and call snap elections.
End Of The Orange
Tymoshenko's coalition collapsed on March 2 when it was unable to collect enough signatures to show it still has a majority in the 450-seat legislature. Tymoshenko accuses Yanukovych of bribing deputies to abandon her group.
Today's vote constitutes a final repudiation for the pro-Western leaders of the Orange Revolution, who came to power after Yanukovych's victory in a rigged presidential election five years ago brought hundreds of thousands onto the streets in protest.
Following his dramatic return to power last month, Yanukovych is widely expected to steer Ukraine back toward Russia, which campaigned for him in 2004 and ridiculed the Orange Revolution. Yanukovych is set to travel to Moscow on March 5.
Many believe he'll name former central banker Serhiy Tihipko or former Foreign Minister Arseniy Yatsenyuk to be prime minister. Both ran in the first round of the presidential election in January and are seen as centrist figures who would boost Yanukovych's appeal among the Orange electorate.
Among the president's top priorities is to restart talks with the International Monetary Fund, which last year froze a $16.4 billion bailout to ease the devastating economic crisis that saw GDP decline by 15 percent last year.
Yanukovych has also promised to tackle rampant corruption. But the ongoing political turmoil will complicate addressing Ukraine's myriad problems.
Last month's presidential vote exposed a country split between its Russian-speaking east -- which supported Yanukovych -- and its European-looking west, which Tymoshenko hopes will support her promised opposition to the new administration.